I looked in the freezer Halloween morning and screamed out in terror! There were only two breakfast burritos left!!
I was truly shaken to the core… Thank God I noticed before they were all gone. Mike literally survives on these things.
Many, many moons ago, when Mike got his first full-time teaching position, his schedule happened to have a really late lunch break – I think it was 12:50 by the time he got a break… Needless to say, he was starving by then, and the two pieces of fruit he ate in his car on the way in certainly weren't cutting it. (And Mikey isn't the type to get up 15 minutes earlier so he can scarf down a couple bowls of unsatisfying cereal – nor am I!)
The solution? Breakfast burritos! They say breakfast is the most important meal of the day, and my man needs those big calories in a car-friendly package.
So I started making HUGE batches breakfast burritos. I always make 3 different flavors, 9-10 burritos per flavor. These delish burritos were my first freezer meal. I wrap them in tin foil, so they can be popped into the toaster oven in the morning while Mike is getting ready for work.
These are an excellent grab-and-go breakfast for everyone. They're also ideal when you have a few (or a lot of) overnight guests who have different tastes.
They're also very popular out in the mountains, especially in the winter… A nice, hearty breakfast to eat in the car with your buds on the way up to the mountains for a ski/snowboard day.
A few years ago, a miracle happened in Colorado… A few of the Kings deli counters started carrying Taylor Ham… Yes, the real deal Taylor Ham brand, previously only seen in New York and New Jersey.
So of course, Taylor Ham/egg/cheese sandwiches became a regular occurrence in our lives once again.
And I started making Taylor Ham/egg/cheese breakfast burritos for Mikey. Ah, a pure slice of heaven. He purposefully has one on Mondays and Fridays – Mondays to get himself psyched about the upcoming week, Fridays to reward himself for a job well done.
But in my constant mission to include more vegetarian dishes in our diet, I try to keep 2/3 of the breakfast burrito options vegetarian. I often make Cookie & Kate's sweet potato hash breakfast burritos, and we also love Chowhound's vegetarian breakfast burritos. (If you must have a breakfast meat involved, I think sausage would work fantastically in the sweet potato hash burritos, and chorizo would be an obvious choice for the Chowhound version.)
But onto my personal fave breakfast burrito concoction… My "Super-Goud Breakfast Burritos".
Ingredients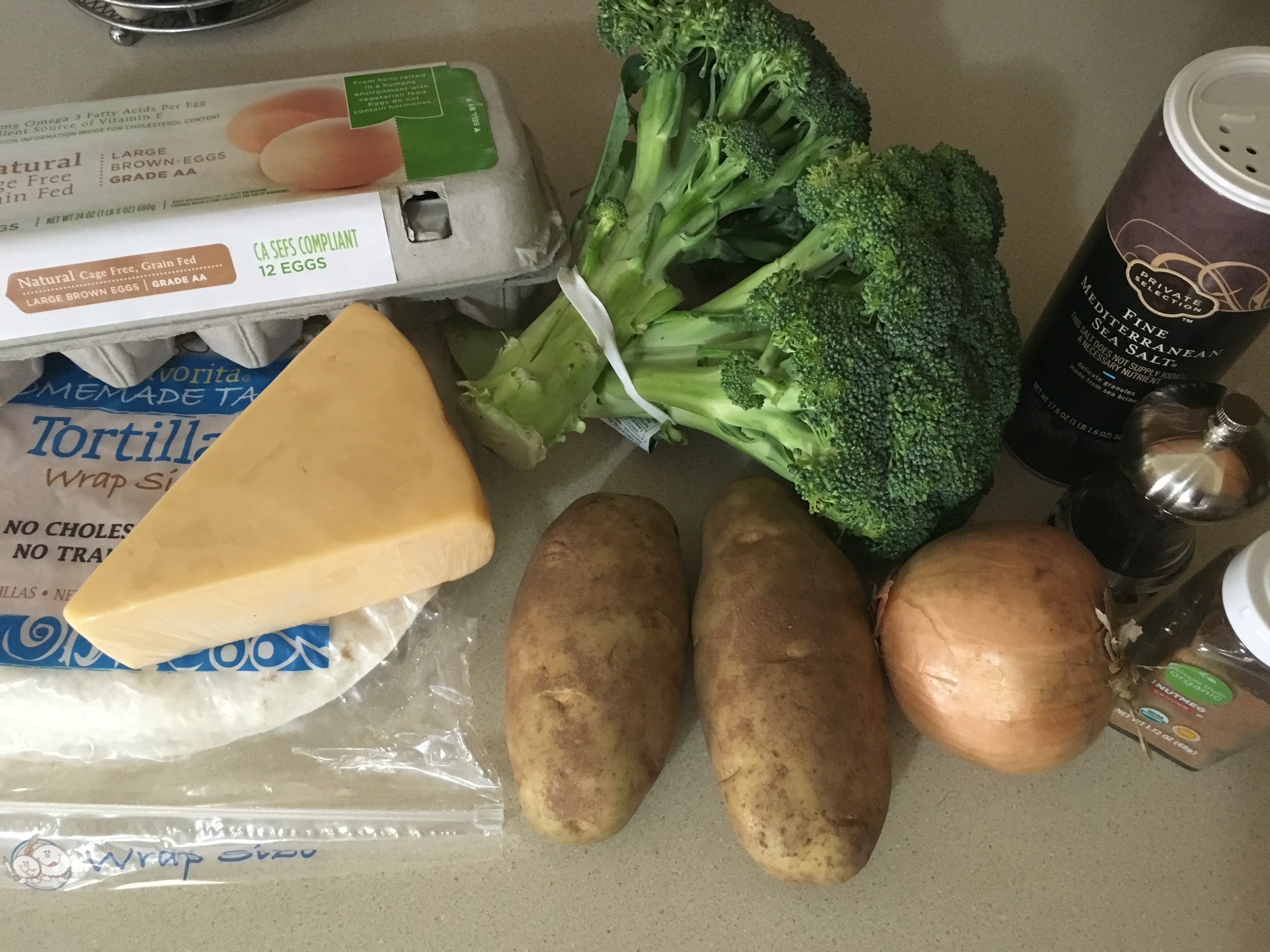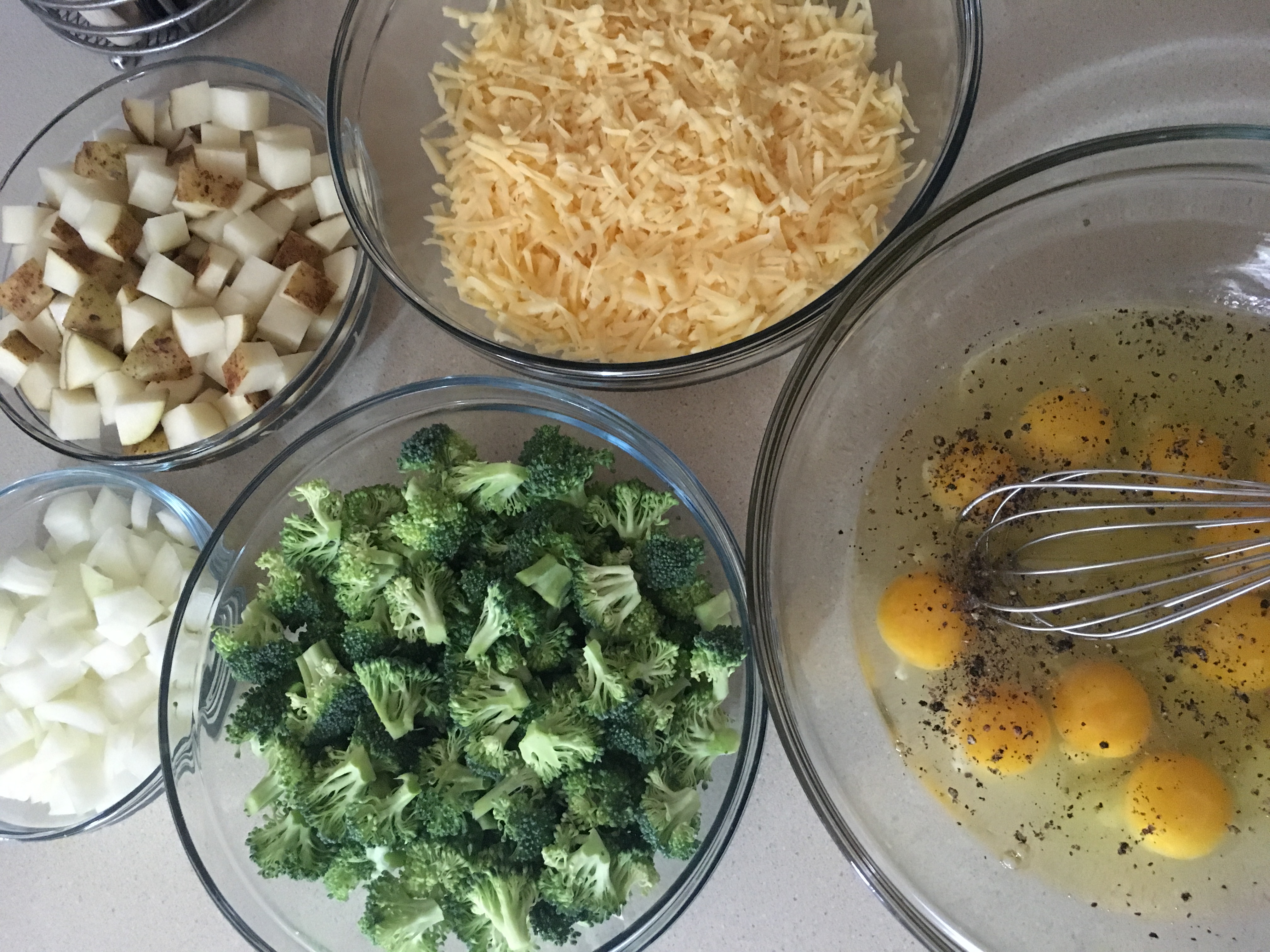 1 dozen eggs
9-10 burrito-size flour tortillas
10 oz. smoked Gouda, shredded (or more!)
2 medium-sized potatoes, ½" diced
2 broccoli stalks, diced
1 yellow onion, diced
2 tbsps butter
A few dashes of nutmeg
Olive oil
Salt & pepper
(Garlic powder, oregano, to season the potatoes if you like)
(Bacon, optional – totally unnecessary, because these burritos are unbelievable on their own, but hey, bacon makes everything better!)
Directions
Heat up a couple tablespoons of oil in a frying pan over medium heat. Dice your potatoes to ½", then season the potatoes with salt, pepper, garlic powder and oregano. Trow (throw) the potatoes in the pan, mix them around with a wooden spoon so the oil gets on the potatoes, and cover with a lid. (While working on the rest of the burrito components, continue to stir/flip around the potatoes so they get nice 'n crispy on all sides.)
Dice your onion and broccoli, being sure that the broccoli is diced relatively small (so you'll get some broccoli in every bite of the burrito!)
Melt 1 tablespoon of butter in a big frying pan or wok over medium heat, and cook the onions and broccoli until they're tender, stirring occasionally while you work on the rest of the components.
Meanwhile, shred your 10 ounces of smoked gouda. Then crack your dozen eggs in a big bowl, adding a little salt & pepper, a few dashes of nutmeg, and beat the eggs.
Once the broccoli & onions are tender, put them aside on a plate or in a bowl.
Now melt another tablespoon of butter in the wok, and dump the eggs into it.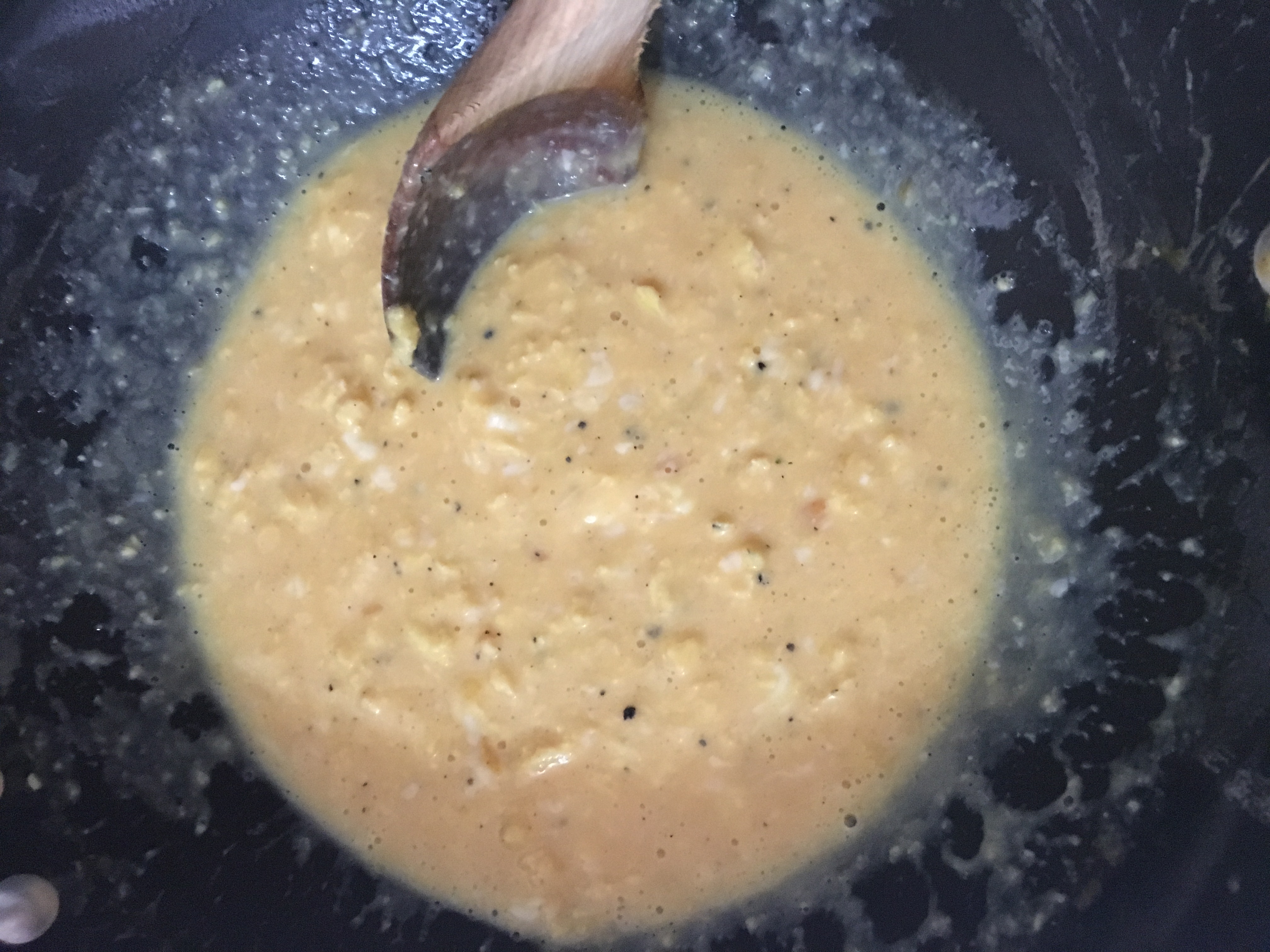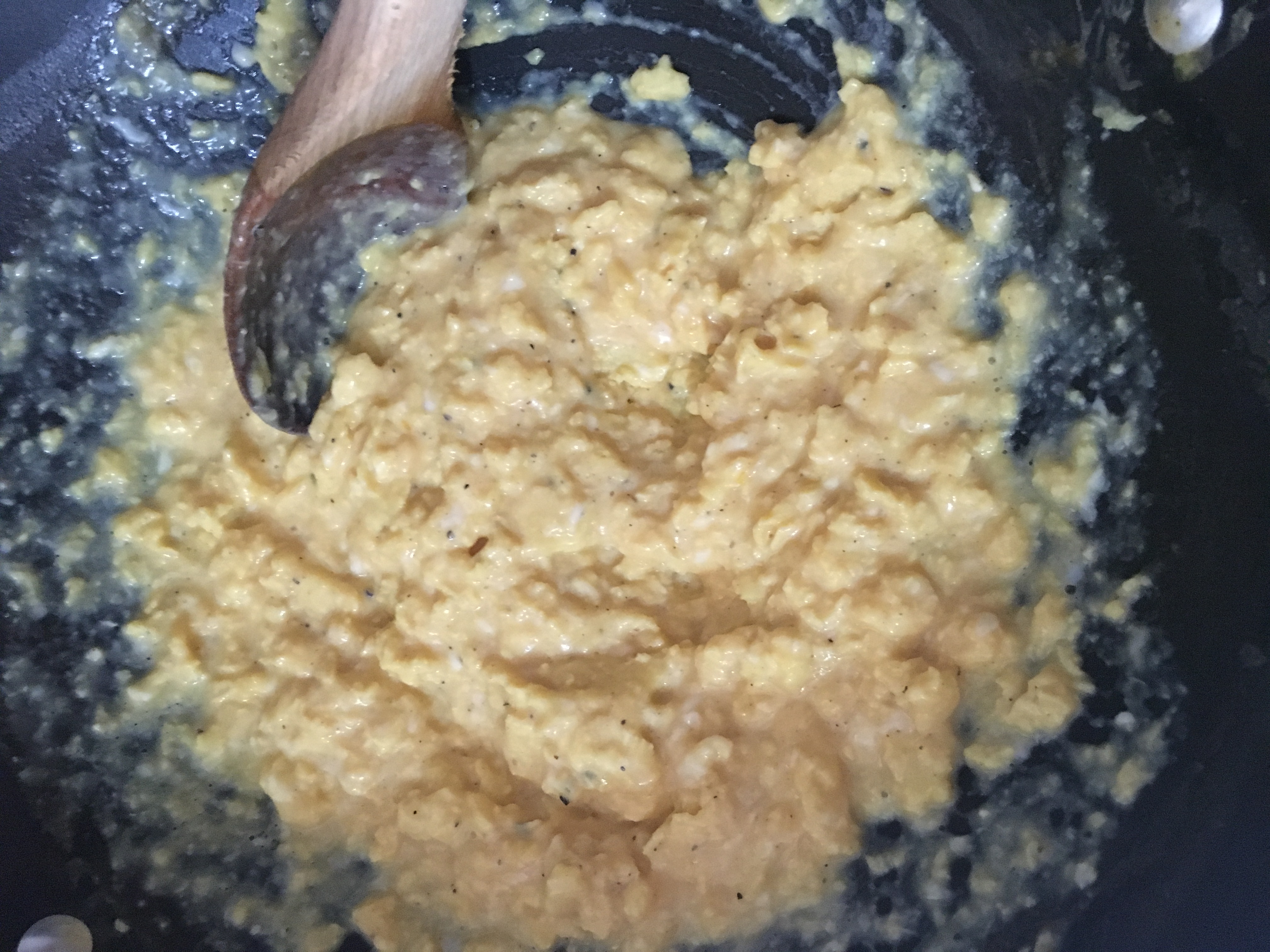 Stir, let cook, stir, let cook, etc., until the eggs are done scrambling. Then add all the other components into the wok and mix together well (potatoes, broccoli, onion, cheese.)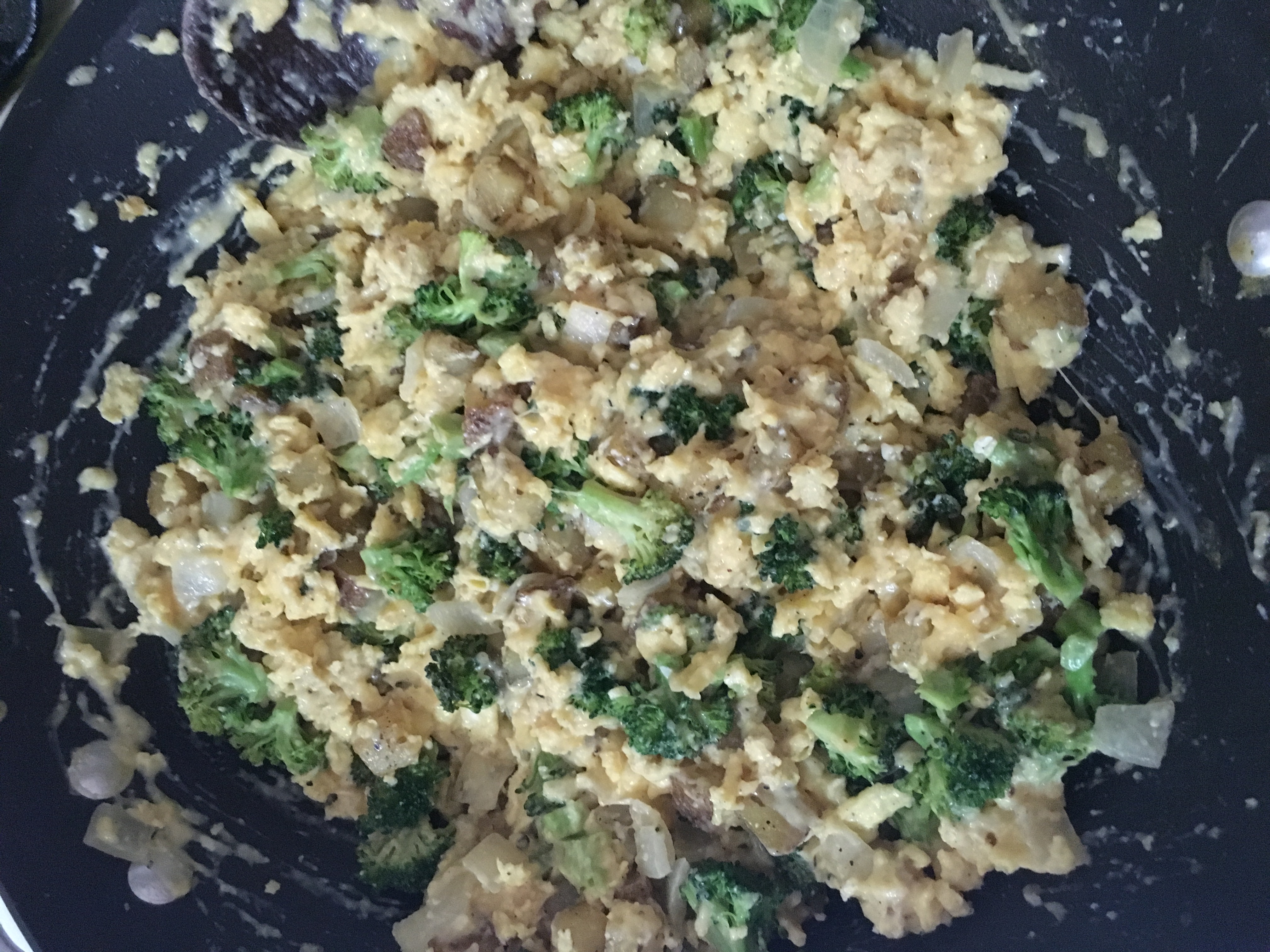 Scoop a large pile into the middle of a burrito-size flour tortilla, and wrap it up.
Repeat, repeat, repeat, until you're all outta the egg mixture.
Wrap the burritos that are to be frozen in tin foil, save a few on the side for the ones you'll be eating immediately, and ENJOY!!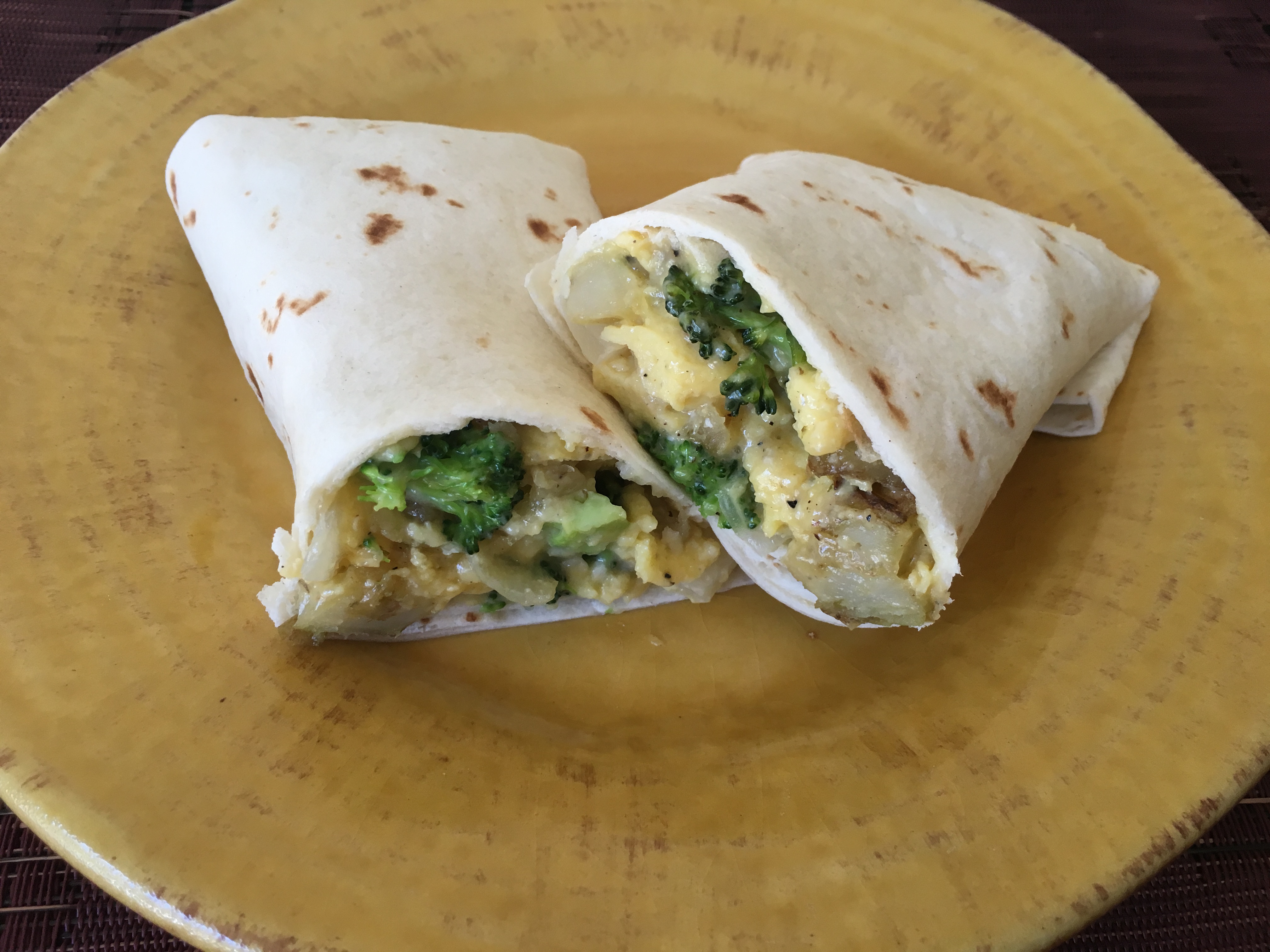 Servings: 9-10 breakfast burritos. Each one is good for an adult, or teenager, or a growth-spurting child. A small kid could easily get by on a half of a burrito.
Time involved: This will take a good 40-45 minutes, but that's mostly because you want to cook those potatoes til they get a little crispy. (Because the finished product will soften them up a bit, and I personally prefer my potatoes with a little bit of crisp.) And 40-45 minutes ain't bad considering you're ending up with 9-10 breakfast burritos. Sure, if you're a family of 8, they'll be gone immediately. But if you're single, or just a couple, or even have a couple of kids, they're fantastic to freeze – Some for today, some for a super-easy future breakfast!