"Sue!" Frank whisper-hissed at me, nudging me with his elbow. "We didn't say grace yet," my one-year-younger cousin quietly reminded me out of the corner of his mouth a millisecond before dissolving into giggles.
I'm sure my cheeks, full as a chipmunk's, turned dark red with horrified embarrassment. Meanwhile, Matt caught on just in time to join Frank with his giggle fit.
Thanksgiving. Brooklyn. Late 80s. Of all the days to forget to be thankful.
But I couldn't help myself! I was one of the pickiest eaters ever: I only liked pizza, French fries, salami (yeah, I know, gross), and Thanksgiving dinner. And Thanksgiving dinner only happened once a year.
Fast-forward five years, and I couldn't help but feel jealous of Uncle Tom's 4" high loaded plate of SECONDS. That guy can eat like there's literally no tomorrow. Meanwhile, I'd served myself meager portions because I was a terrified freshman who'd heard horror stories of girls throwing up their Thanksgiving dinners at the basketball double-sessions the following morning.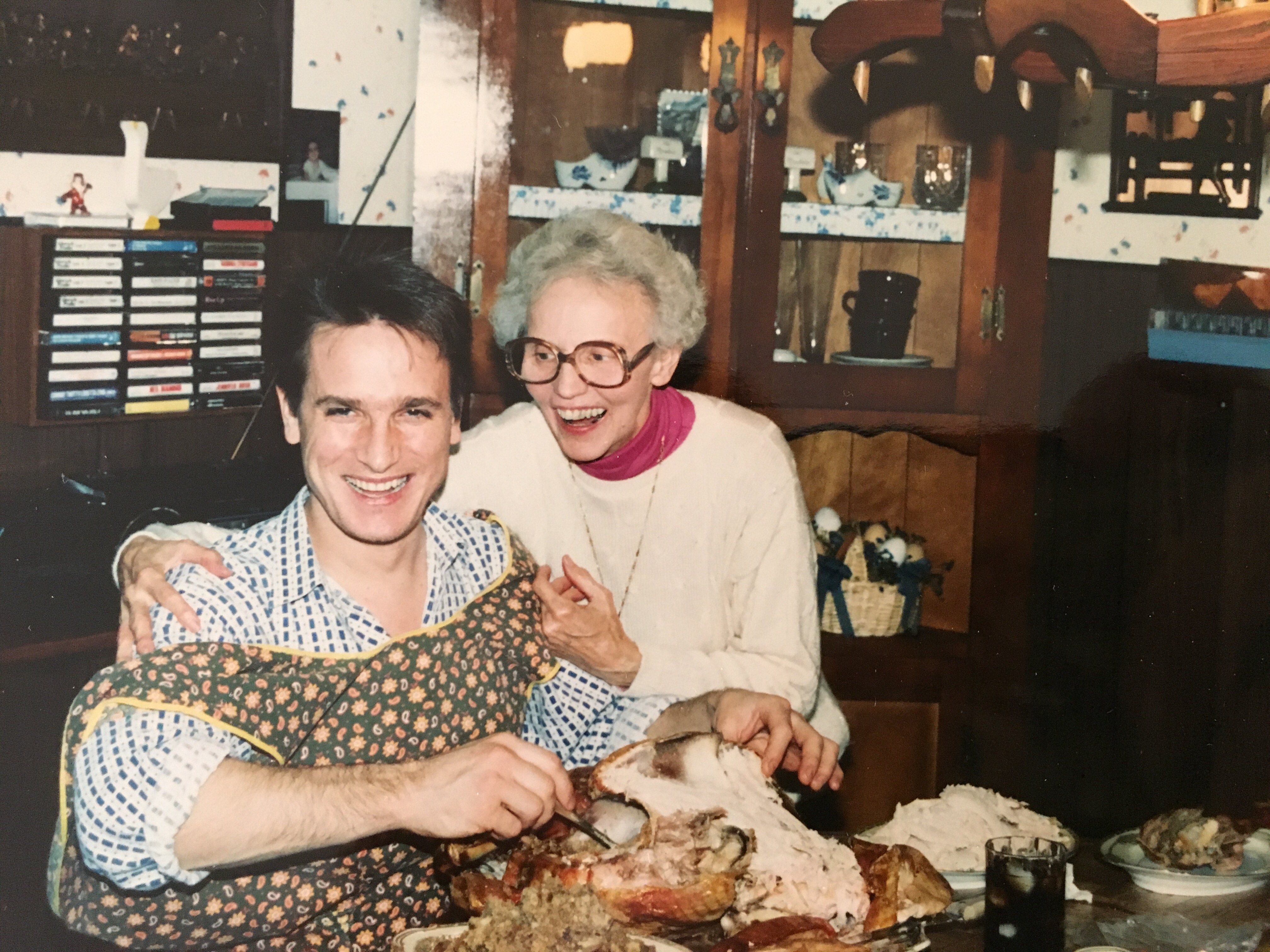 Fast-forward 20+ more years to last year, and I'm 36 years old, and it's the first time I ever made a turkey myself. Well, not really. While we split the prepping time equally, Mom did most of the dirty work. But the point is last year was the first time in my life that I didn't go to someone else's house for Thanksgiving.
As much as I've always loved Thanksgiving dinner, the idea of cooking a turkey scared the crap outta me.
I'd always envisioned an epic fail a la Christmas Vacation…
But everything turned out pretty dang delicious, especially with "Aunt" Carmel's amazing stuffing!
So I'm not scared to cook a turkey anymore. But holy cripe, making a turkey and all the necessary sides is a helluva lotta work! I definitely understand why it only happens once a year.
Yet I've always dreamt of a more frequent occurrence… So one day, I dreamt up this recipe.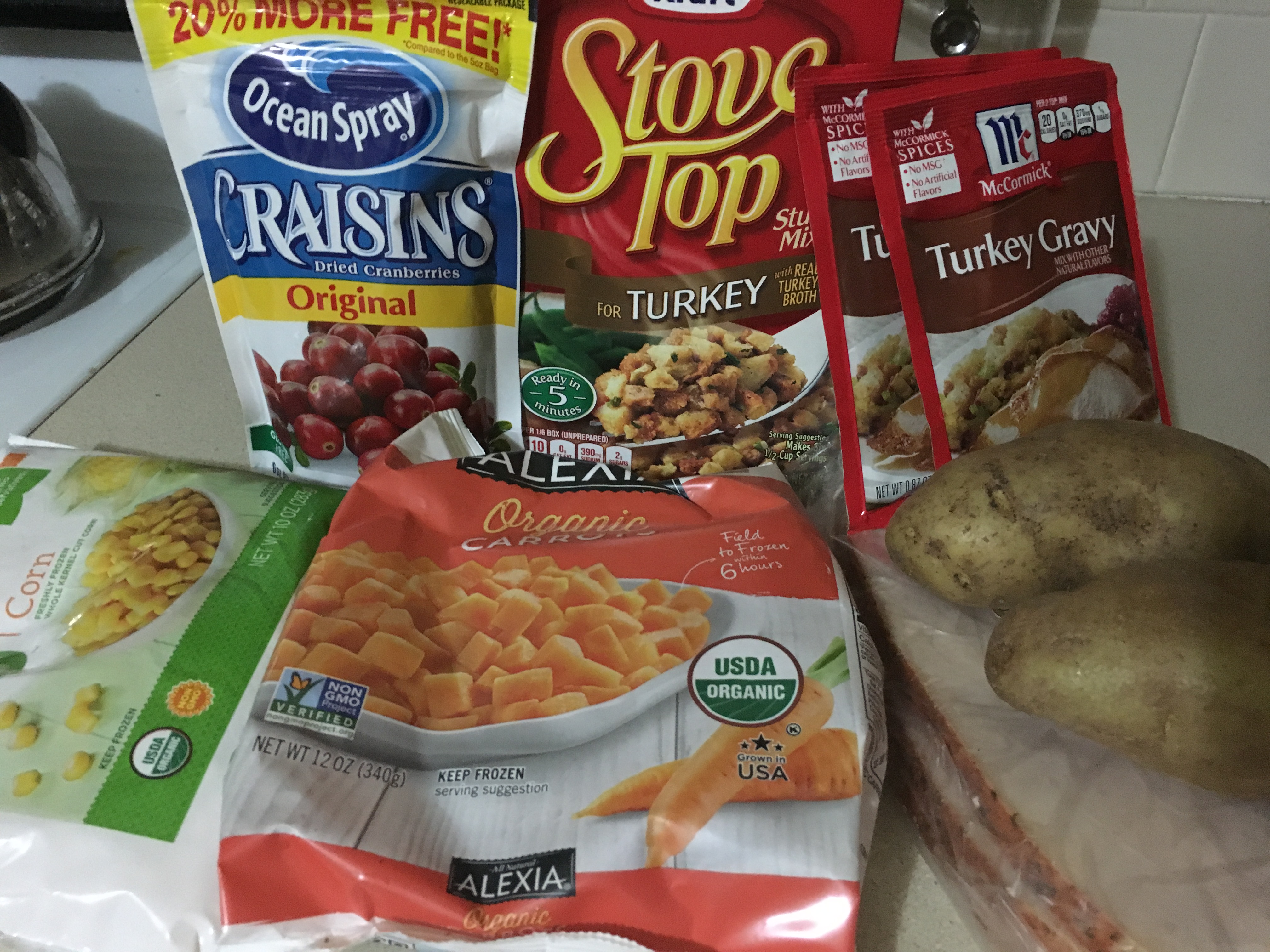 No, of course it's not as good as the real deal. Kinda like pizza and bagels out here in Colorado vs. NY/NJ. But if you know where to go, it is possible to find pizza and bagels that are actually pretty good.
And my Thanksgiving Casserole? It may not be the real deal, but it's pretty damn good and we scarf it down quickly every single time.
And the best part? A 10 year old could make it! Maybe not ME at 10, who couldn't even remember to wait until grace was said before digging in, but ya know, smarter 10 year olds could make it I'm sure 😉
This is a flexible recipe – you can include whatever you want. But for my personal taste, it wouldn't taste like Thanksgiving without the turkey, gravy, stuffing and potato components. And I just use carrots and corn, because it makes the recipe easy.
And sure, typically the potatoes get mashed on Thanksgiving, but again, to make the recipe easy, I'm perfectly happy with simply roasting the ½" diced potatoes.
Also, some people might turn their nose up at Stovetop stuffing, or any kind of instant stuffing. But the whole point of this recipe is to make a super-quick version of a meal that typically takes all day (TWO days if you're the type to brine your turkey!)
I chop the potatoes and tear up the turkey, but for the most part, the rest of this meal is a dump job.
And here's the key – Roasted turkey cold cuts from your grocery store's deli counter!
You might be thinking, BLEH!, but hear me out. When people think of cold cuts, they think of thinly-sliced deli meats. Well, guess what? You can ask the folks to give you slices as thick as you want! You can ask them to give you a couple of slices of turkey, ¼" – ½" thick.
Sure, a real homemade turkey is better, but this is pretty dang good.
So get ready for Thanksgiving heaven any day of the year…
You're welcome 😉
Ingredients
2 slices of deli turkey, sliced ¼"-½" thick (maybe 3 slices if being sliced near the small end)
2 big potatoes or 3 small/medium potatoes, ½" diced
Box of stovetop stuffing, or similar
Frozen corn (half or full bag, depending on the size of the bag)
Frozen diced carrots (half or full bag, depending on the size of the bag)
Jar of gravy, or packet of gravy (or two, if you need LOTSA gravy, which we do!)
Craisins! (Optional)
Directions
Preheat oven to 350.
Dice up potatoes about 1/2″ size. Trow (throw) the potatoes in a 9X13 baking dish, toss 'em in some olive oil, salt & pepper, then trow the dish in the oven, stirring occasionally with a wooden spoon.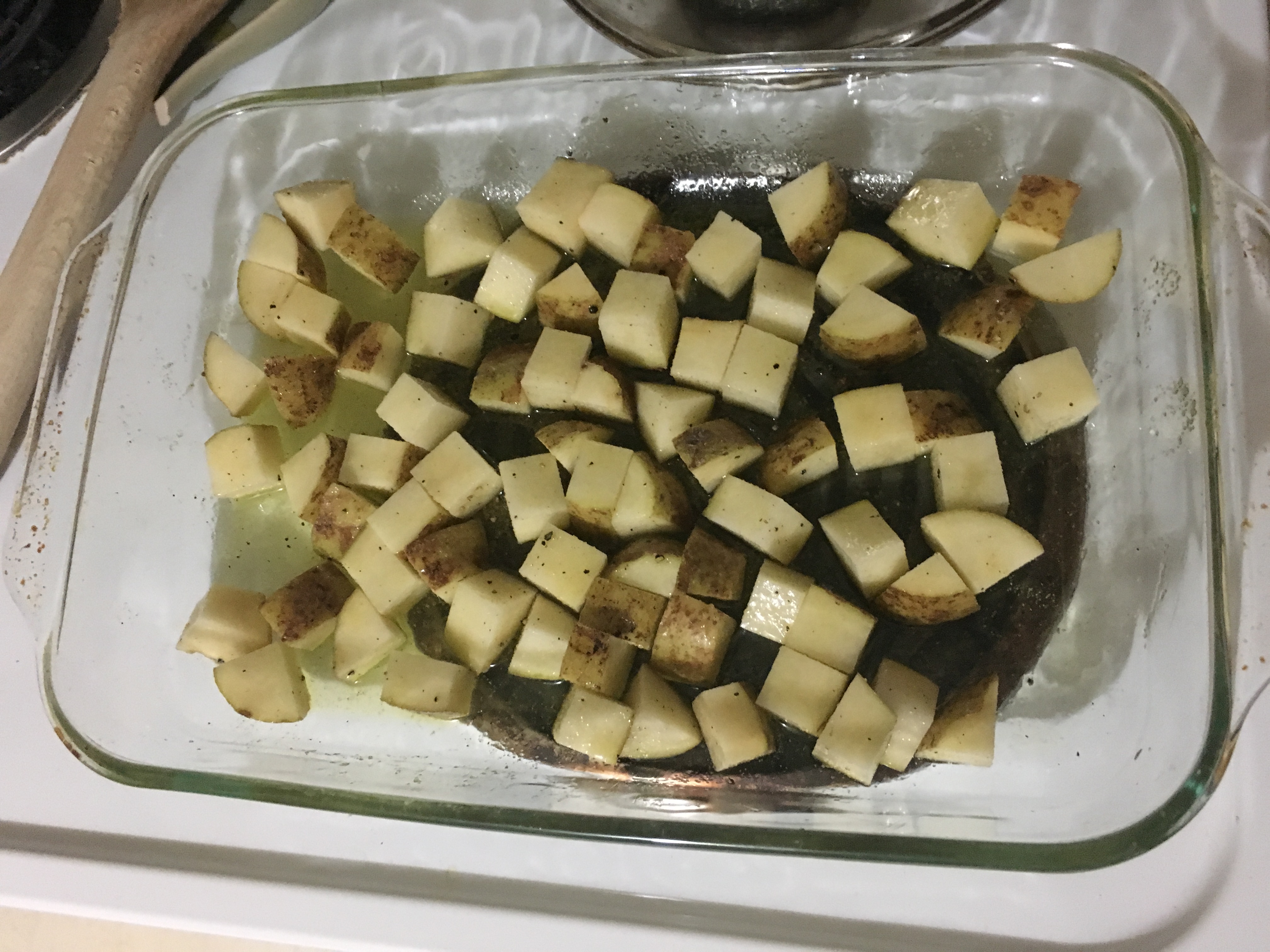 Get the stuffing started.
While you're waiting for the water for the stuffing to boil, tear up the turkey.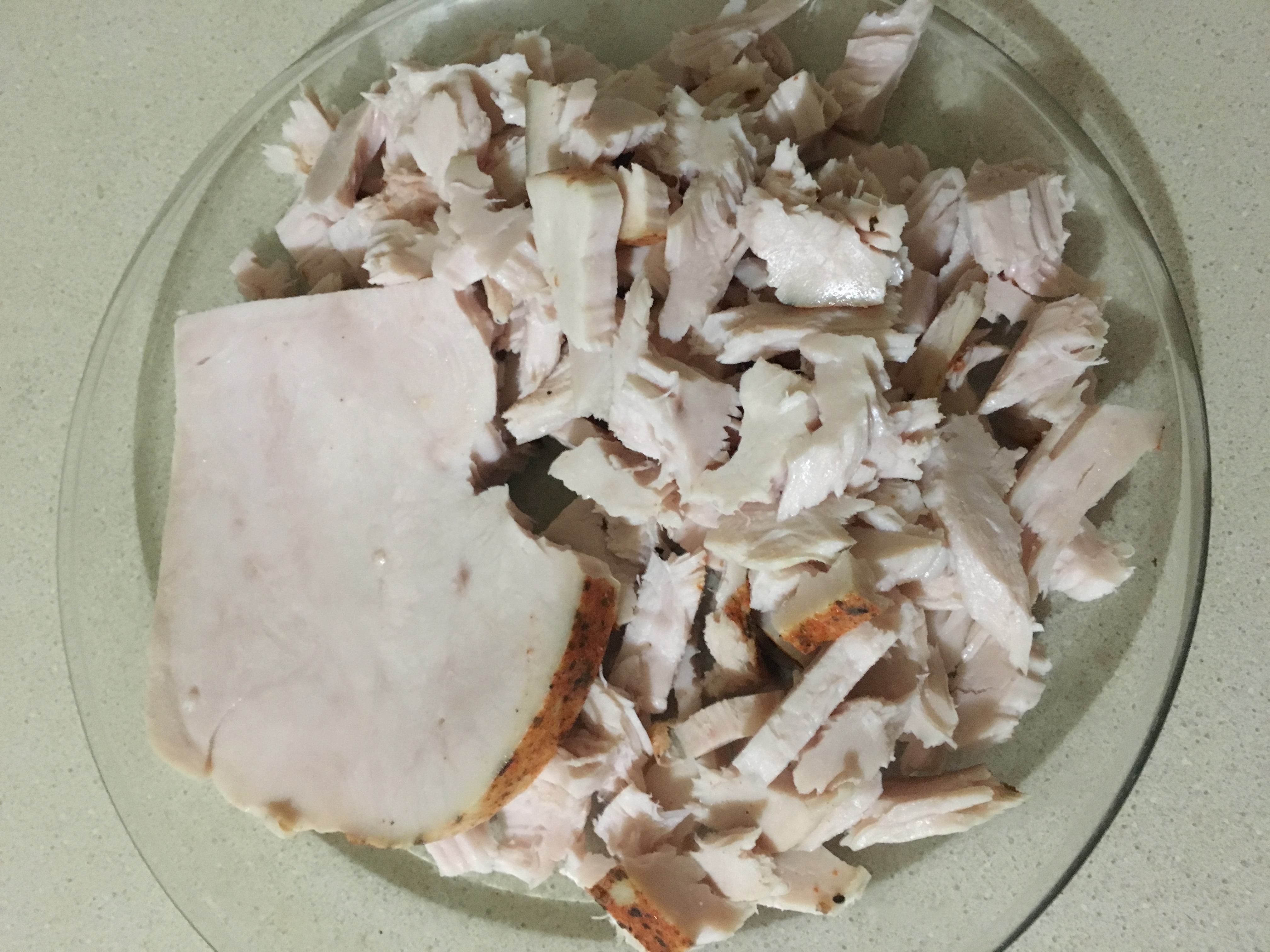 (Stir the potatoes again.)
Trow the stuffing into the boiling water, cover, and remove from heat.
Add the frozen diced carrots to the roasting potatoes, and continue cooking for another 5-10 minutes.
Add all the other ingredients except the gravy to the baking dish, cover with tin foil, and bake for another 15 minutes.
Pour on the gravy, and enjoy Thanksgiving any day of the year!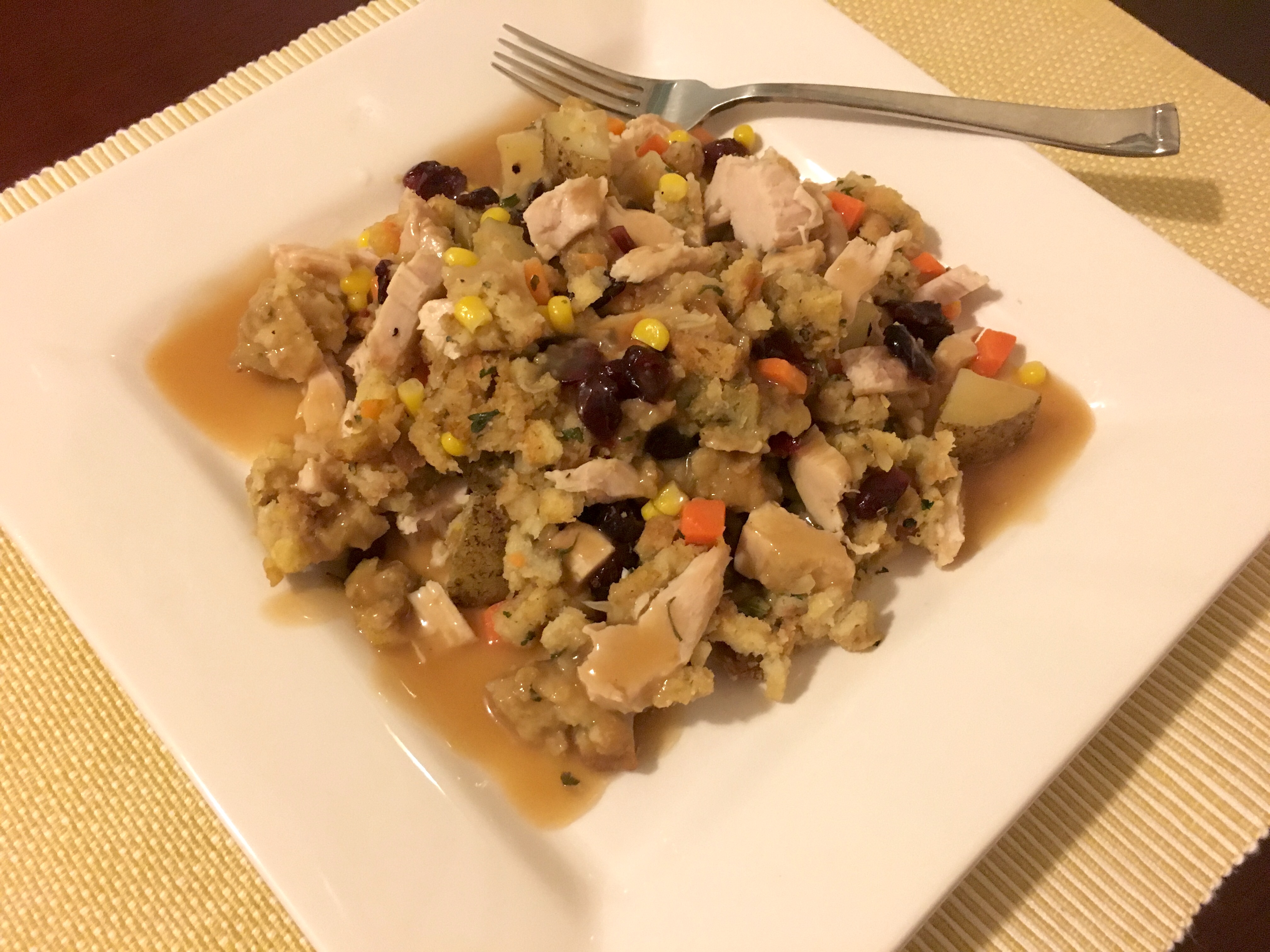 Servings: Well, this might only feed 2 Uncle Toms. But I'd say it easily makes 4 very large typical adult portions.
Time involved: About 35 minutes, from turning on the oven and washing your potatoes, to sitting at the dinner table getting your first bite of Thanksgiving Any Day Casserole.