The Cursing Gourmet Tip of the Day:
Take a box (or can) of gourmet soup and make it your own.
Don't get me wrong – I love a good ol' fashioned can of Campbell's Chunky Salty-as-Hell Chicken Noodle Soup when I'm sick, and even sometimes when I'm not.  And I often keep a can or two of New England Clam Chowder around – Mike's fave.
But I'm really digging all these gourmet organic soups I see in the soup aisle these days.  Of course in the Denver/Boulder area, the options are a-plenty.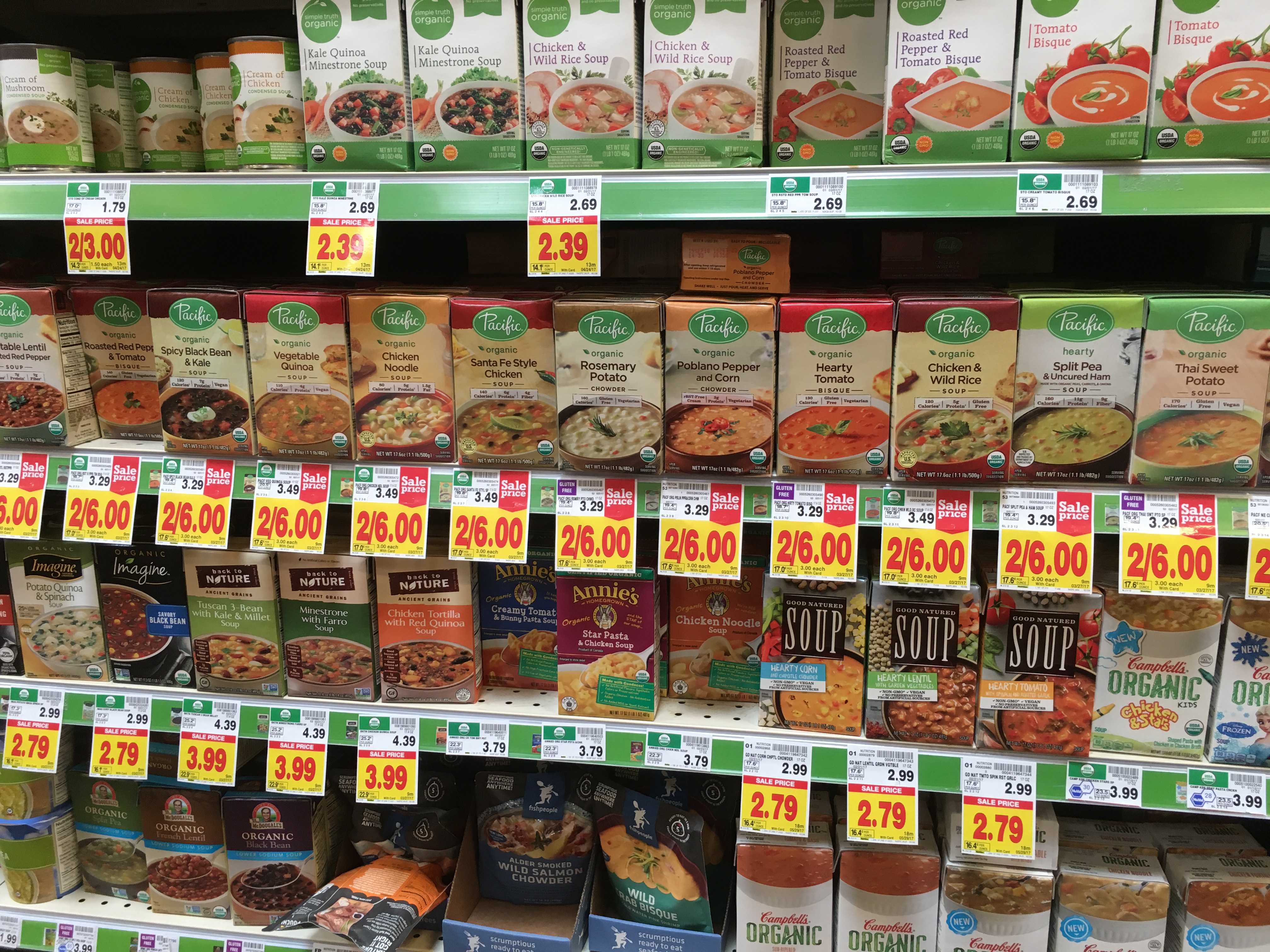 Many of these soups are delish on their own, but they are also GREAT for Haters as a springboard to make your own soup out of it.
Now, sure, you could use these kinds of soups simply as a starting point, and cook some meat and veggies to incorporate into the soup… But as a Hater, this is the kind of meal I'd want to keep SUPER SIMPLE.
For instance, if you have leftovers sitting in your fridge (whether home-cooked or takeout), this is an EXCELLENT way to use them up.  And in the same vein, if you have produce that you need to use before it goes bad, incorporating it into a soup is a great place to put it.
So my recommendation is to buy MULTIPLE gourmet soups that sound good to you, even if you don't know how you're going to use them YET.  Their shelf life is LONG.  Surely you will end up with leftovers and produce in your fridge from time to time, so just keep your eyes open for opportunities to incorporate them into one of the soups!
For instance, I have this chunk of leftover (cooked) pork loin.  Definitely not enough to be the main component of a meal for two adults.  And definitely NOT the kind of thing I'd gnaw on for lunch all on its own.  So I'm gonna pick a soup it'll work with and use it!
And even when I don't have leftovers lying around, there are a million ways to hearty-up a soup with little-to-no cooking.  I like to add chick peas to soup, for instance.  They're a GREAT source of fiber and protein that ISN'T meat.  I add chick peas to salads and soups that I want to "beef up," but keep vegetarian.
Here's a link to an article with a bunch of specific examples of how to hearty-up soups (and if you Google "make boxed/canned soup your own," you'll come across plenty of other ideas as well):
http://www.today.com/food/canned-soup-recipes-16-easy-ways-amp-store-bought-soup-1D80234216
Making a box or can of soup your own can be a super-quick, super-easy weeknight meal that you'll feel good about eating.  And it's a win-win sitch, cause the clean-up will probably be very easy too 😉