Dump all this stuff in a big pot and simmer for 10 minutes.  (Almost.)
Ingredients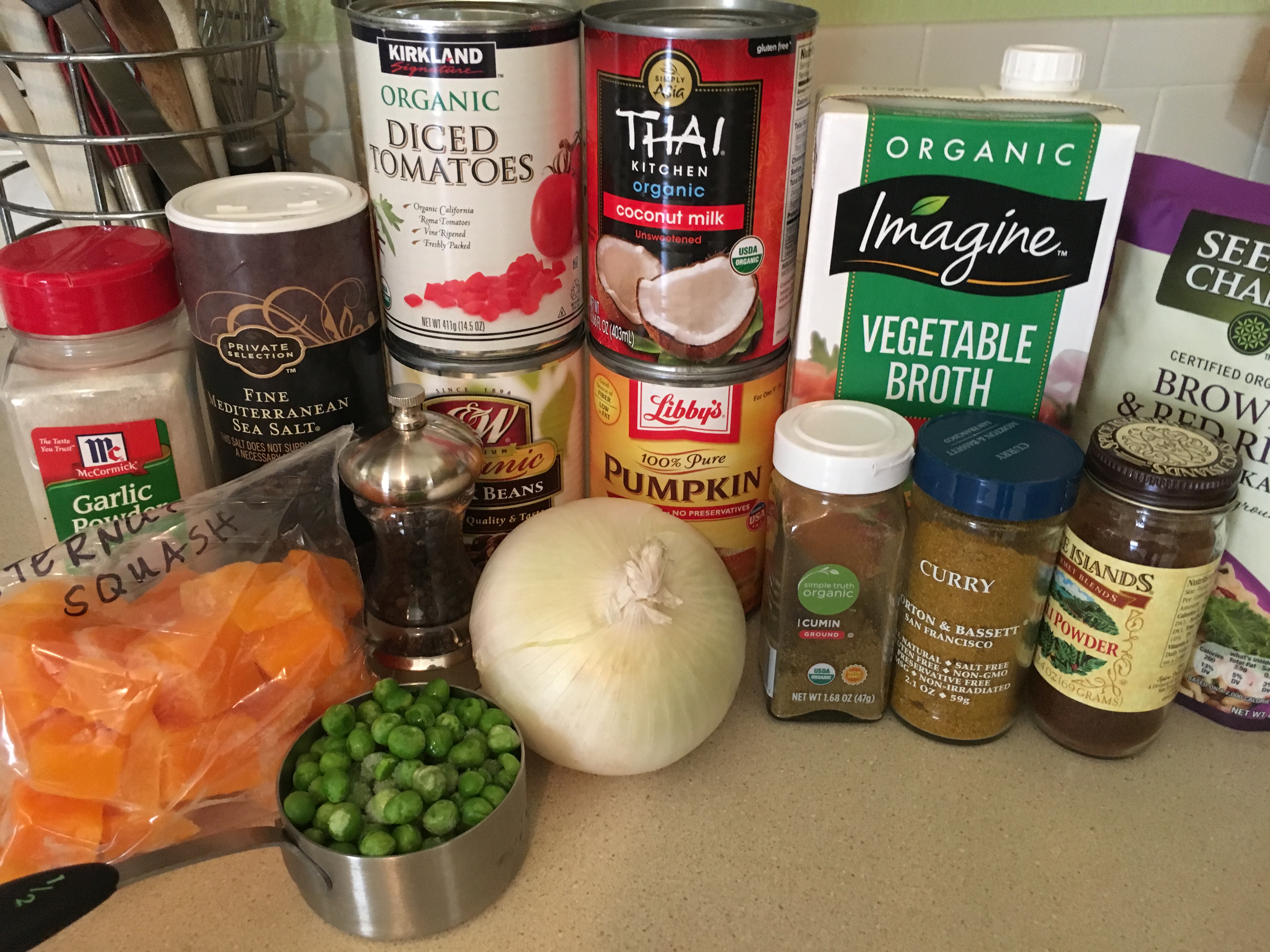 1 small onion (or 1/2 big onion), diced
1 can pumpkin purée
1 can black beans, drained & rinsed
1 can diced tomatoes
1 can coconut milk
2-3 cups vegetable broth (3-4 if you want it less stoupy, more soupy)
1 cup butternut squash cubes
1 cup peas
1 cup cooked rice
1 tbsp EVOO
1 tbsp curry powder (or more!)
1 tsp garlic powder
1 tsp cumin
1/4 tsp cayenne pepper
Salt & pepper to taste
And feel free to add/omit other veggies and spices, to your taste: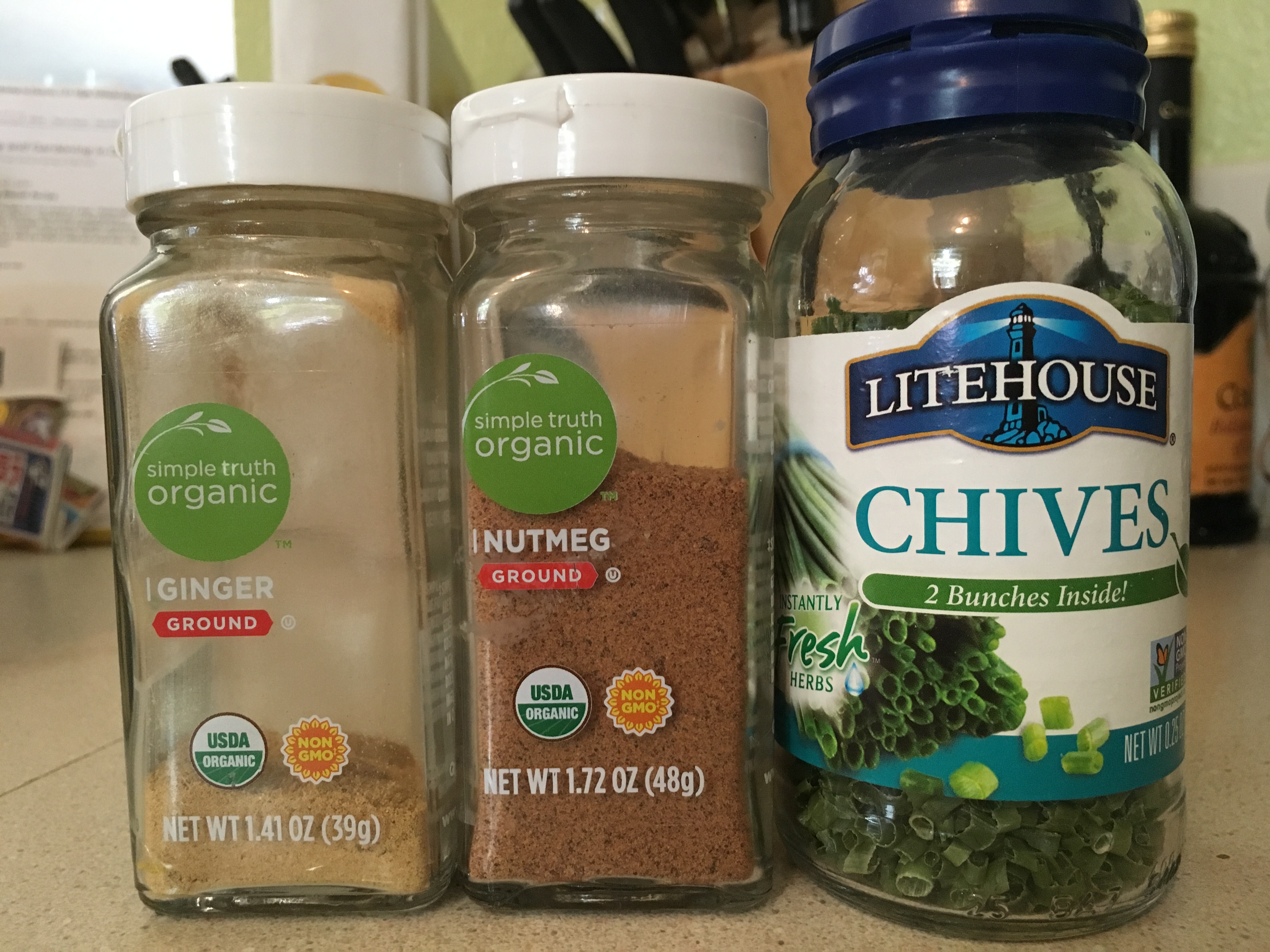 Directions
Dice up your onion and trow it in a big sauce pot with a little EVOO over medium heat.
Stir occasionally while gathering the rest of the ingredients, opening the cans, and cooking your microwavable rice (if you're not using leftover rice.)
Dump all the ingredients into the pot with the onions and bring to a boil. Once it starts bubbling, turn the heat down to medium-low and simmer for 10 minutes, stirring once or twice.
Serve with some kind of flatbread and PIG OUT!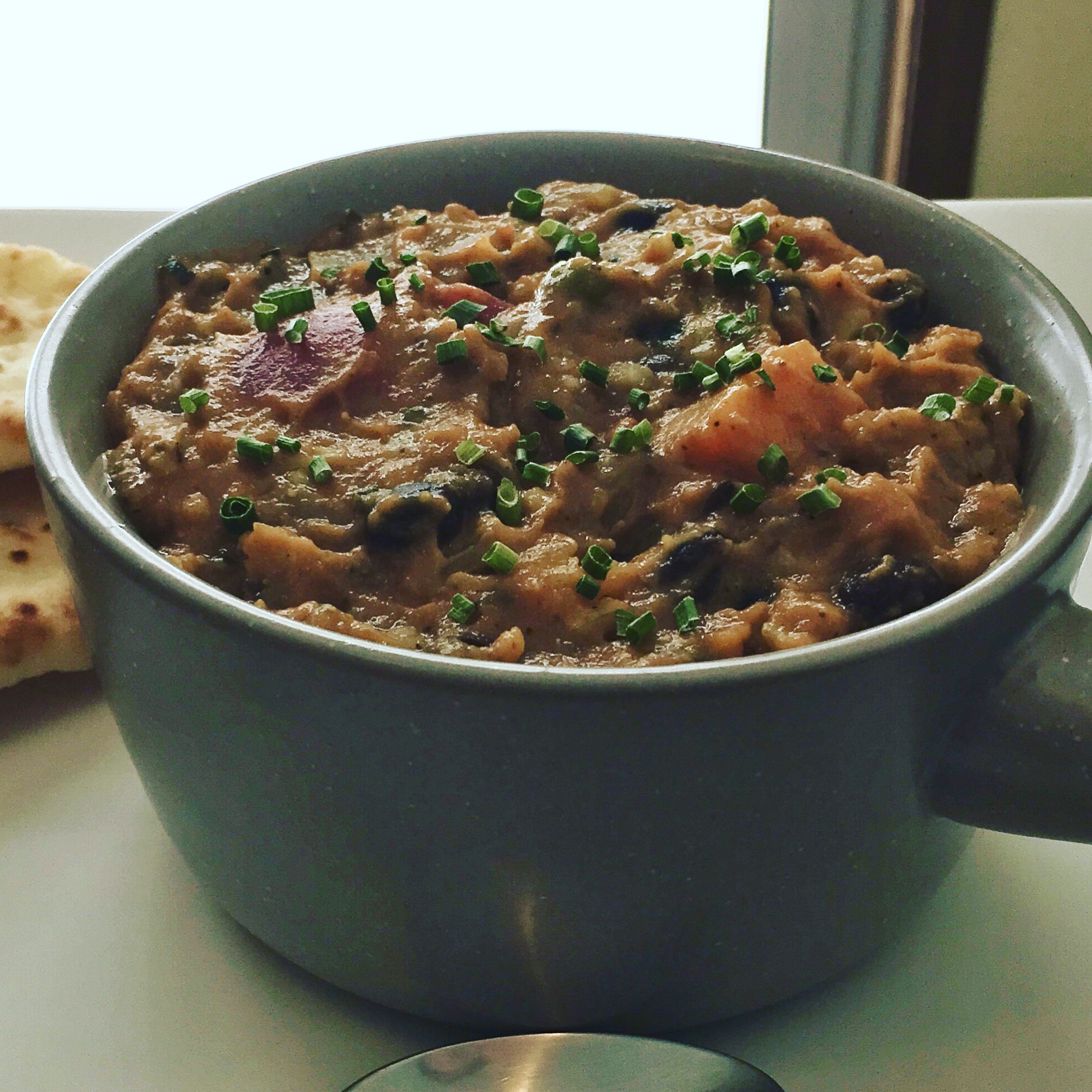 Notes:
The whole point of this meal is that it's super easy. So why would I want to add a step (cooking rice) to the equation?
This is the kind of meal I'll make when I'm already making rice for something else earlier in the week, doubling the rice for that meal, and trowing half of it in the fridge.
But last time I was in Costco, I saw these organic, microwavable brown rice packets – PERFECT for this kind of meal!
Leftover or microwavable rice makes this a one-pot meal, which therefore makes the clean-up a breeze. It requires very little prep and active cooking time – You basically have to chop an onion & dump it into a pot with a little oil, stir a few times, open a few cans, dump stuff into the pot, and stir a few more times.
And it's good for you! Easy, yummy AND good for me? Count me IN!!
As far as the ingredients involved go, feel free to get creative! I trow in frozen peas and butternut squash because I almost always have those veggies in my freezer. Feel free to trow in whatever you want!
And it doesn't have to be frozen veggies… Maybe you have some fresh veggies you need to use up. Maybe you have some leftover meat that could get diced up and thrown in.  Just be sure you don't have to cook those other additions first – Ya wanna keep it SIMPLE! 😉
Servings:  4 depending on how many veggies/additions you include, and whether you're including a side salad as well.
Time involved:  Almost NADA!  5 minutes prep/active cooking time.  20 minutes, start to finish.  Less than 30 minutes including clean-up.  A true 30 minute meal.
The BS:  ("BS" meaning "back story" if you give a shit, or "bullshit" if you think food blogger back stories are a buncha bullshit 😂)
(Originally published April 2017, we don't live in the mountains anymore – Back in Dirty Jerz 😳😂)
Well, winter ain't over yet where we live… 8 inches and counting!
And while we'll get plenty of warm days going forward, we usually get snow through April, and probably even a bit in May! Check out this pic Mike posted a few years ago on my May 15th birthday: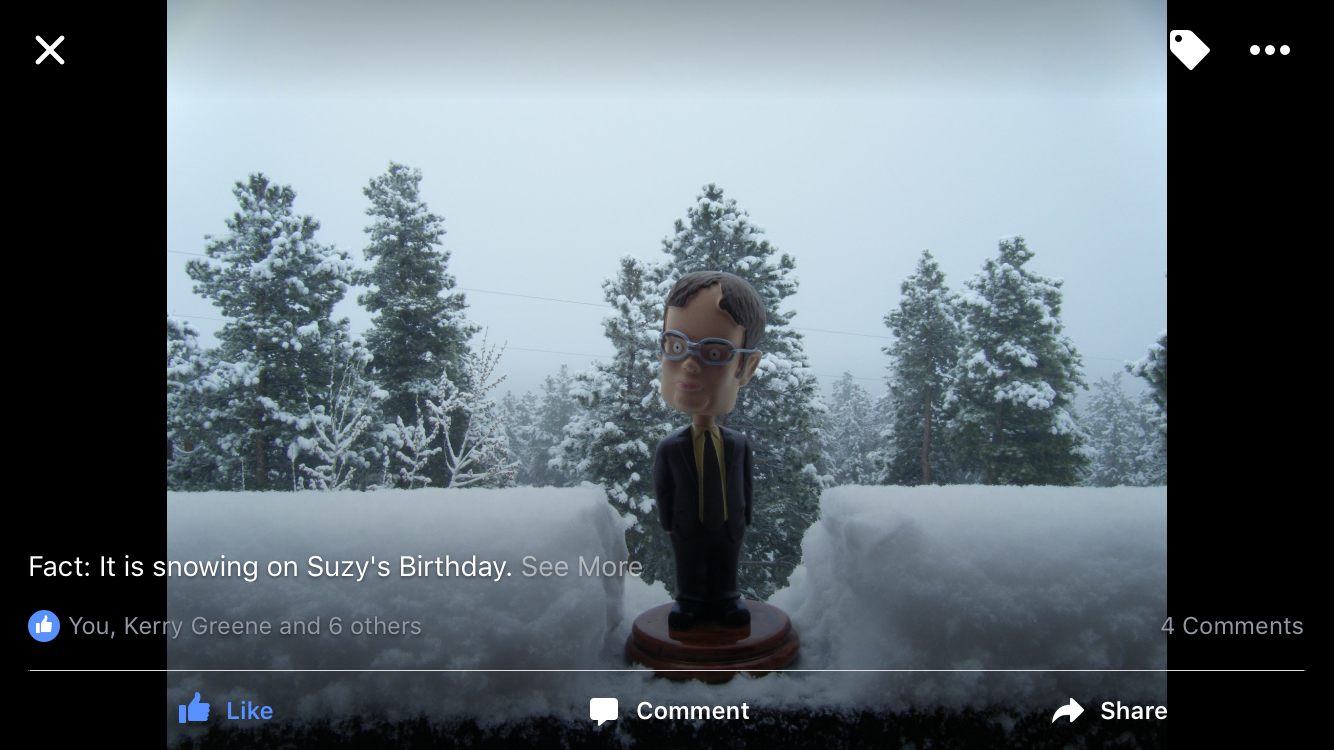 😂😂😂 Yep, this is our world.
Mikey, Izzy & I live at about 8,500 feet above sea level in the "foothills" 😂 of the Rocky Mountains. I don't *think* we've ever had snow in June, July or August, but we definitely get snow every other month of the year.
Lucky for me, I'm a huge fan of soups, stews & chilis, and these types of meals are appropriate 3/4 of the year where we live.
Most normal people are probably SO DONE with winter by now, but before you guys are done with hearty soups for the season as well, I figured I'd share my new favorite almost-pantry meal: Pumpkin Veggie Stoup.
(That, and I found a random can of pumpkin purée in the cabinet and suddenly felt a jones for this stoup 😉)
This meal is inspired by Rachael Ray's Pumpkin & Black Bean Soup. The main diff is that her soup is not a MEAL.
Dude, I'm not about to cook dinner AND a soup to serve alongside… PLEASE! Maybe for a group on a special occasion, but for "everyday" dinners? Nah, son.
But I liked where RR's head was at – Pumpkin's one of those superfoods, right? And I'm always trying to get more healthy vegetarian dishes into the rotation around here. And this can even be vegan, if you use coconut milk versus RR's cream.
It's an almost-pantry meal cause ya gotta serve it with naan or some kind of flatbread, but I'm BUYING that, not making it from scratch – Please! Which makes my pumpkin stoup a super-easy, delicious weeknight meal.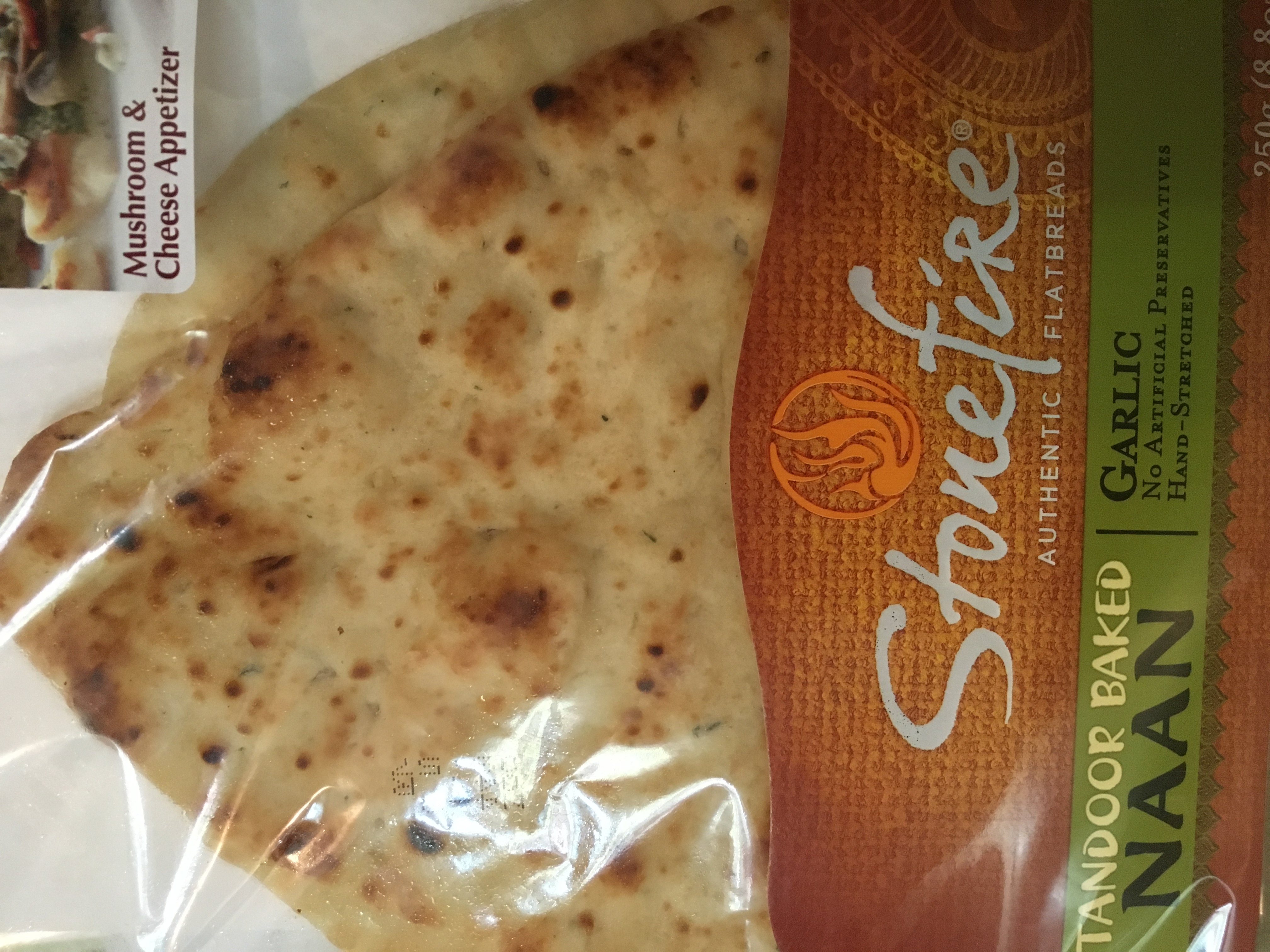 It's also "almost-pantry" because technically there's an onion in the recipe, but let's face it – If you're the kind of person who has all the other canned ingredients in your cabinet/pantry, chances are you have onions around regularly.
Also disqualifying it from being a true pantry meal, I include a couple things from the freezer. But that's just because I prefer frozen veggies to canned. And my freezer is basically my cold pantry, honestly.
The point is that you don't need anything fresh for this recipe. If you don't have an onion, it'll be OK – Just trow in a bit of onion powder. And if you don't have onion powder, it'll still be cool.
Bon Appetit!