With the exception of Biscuits & Gravy, I really don't bake much. Besides it being a little tricky at 8,500 feet above sea level, I've just never had a sweet tooth.
Mike actually nicknamed me "Meat Tooth" many years ago on a ski trip with my cousins and a couple of friends because I was the only one who was satisfied with just one s'more. Everyone else was having seconds and thirds, and eyeing me like I was an alien or a robot or something for not wanting another.
I'll always have one bite of a community dessert when I'm out to dinner with friends or family. I do appreciate the taste of a delicious dessert… But that's all I want – one bite.
Until I got pregnant with Izzy, that is. Here's an excerpt from my post for The LipLiner, "Meat Tooth Crosses Over to the Dark (Chocolate) Side":
There's an old wives' tale that says you will crave sweets if you're pregnant with a girl, salts if you're pregnant with a boy. This is probably complete BS, but if there was ever proof anywhere, it was me when I was pregnant.
Now, it certainly wasn't a self-fulfilling prophecy: we didn't find out Isabelle was a girl until the day she popped out. Nor was it "I'm pregnant and gonna get huge anyway, so screw it, CHOMP, CHOMP, CHOMP!" No. I just had a serious jones for sweets when I was pregnant. I probably ate more ice cream and cake (and cookies and cupcakes and candy) when I was pregnant than all the sweets I ever ate in the 35 years preceding the pregnancy!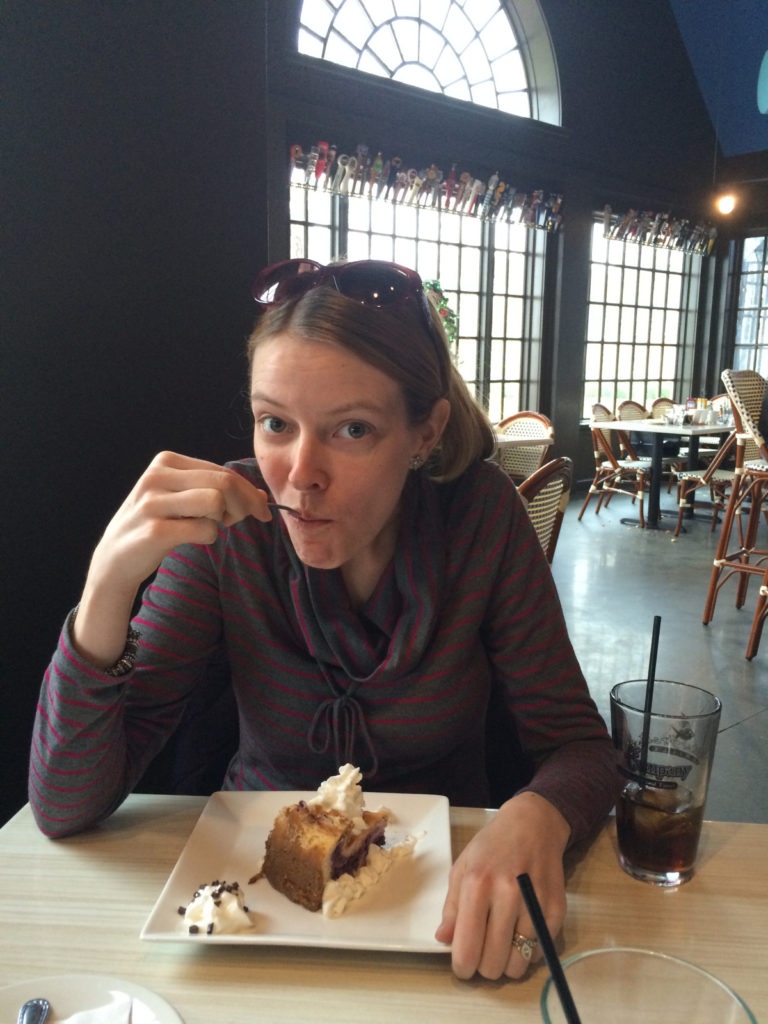 (Read the rest of my sweets binge post here if you like!)
Cheesecake was my number one pregnancy obsession, of all the sweet things available. And conveniently enough, cheesecake is the one sweet baked good I make up at this altitude.
I've never made a big cheesecake, only mini cheesecakes, because I don't trust my pie-baking skills up here in the mountains. But many years ago, I saw Paula Deen's recipe for mini cheesecakes, and thought, That might actually work up here…
And besides it working up here, I think mini cheesecakes are a FANTASTIC dessert to bring to a holiday party (or any party with a lot of people). There are always so many desserts at holiday parties beckoning those with sweet teeth – Mini cheesecakes allow the partygoer to sample just one, if they want to try a lot of other things – or grab a few more if they want more cheesecake!
So here's my pumpkin cheesecake recipe for you for the holiday weekend, if you've been tasked with bringing a dessert to the party. You can make them mini-sized as well – I'm making them cupcake-sized (because I forgot to pick up mini cupcake liners at the store – Doh!) But beware, the quantities in this recipe make 24 cupcake-size cheesecakes, so if you make mini's, you'll probably end up with 75-100!!
Ingredients
For the crust:
12 graham crackers, broken up
2 ounces walnuts
4 tsps sugar
6 tbsps butter, melted
For the filling:
4 (yes FOUR!) 8-oz. packages of cream cheese
1.5 cups sugar
3 eggs
2 tsps vanilla extract
2 tsps cinnamon
½ tsp nutmeg
½ tsp allspice
Optional, but highly recommended: Salted caramel and whipped cream for putting the delish factor over the top!
Directions
Preheat the oven to 350.
Trow (throw) your broken up graham crackers, your walnuts, and your 4 teaspoons of sugar into a big food processor, and process until it's all little crumbs. Then pour your melted butter in, and pulse a few times until the butter is mixed in well.

Put 24 cupcake liners into two 12-muffin tins, drop a heaping tablespoon of the graham cracker mixture into each cupcake liner, and then press down the mixture with a spoon or small spatula.

Pop those in the oven for 5 minutes so the crusts get baked a little.
Meanwhile, bust out your hand mixer or standing mixer, and first blend the cream cheese and sugar until it's smooth. Then add half of the eggs, and continue mixing. Then add the other half of the eggs and mix it all up. (I don't know why but most cheesecake recipes say to add the eggs one at a time… But I'm a total rebel, so I add them 1.5 at a time.)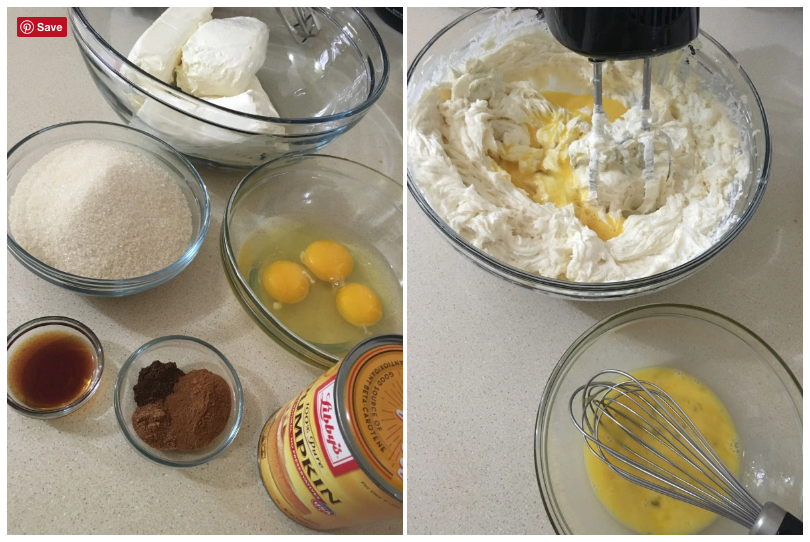 Don't forget to take your crusts out of the oven!
Next dump your can of pumpkin puree, vanilla extract, cinnamon, nutmeg, and allspice in, and blend until everything is mixed together well.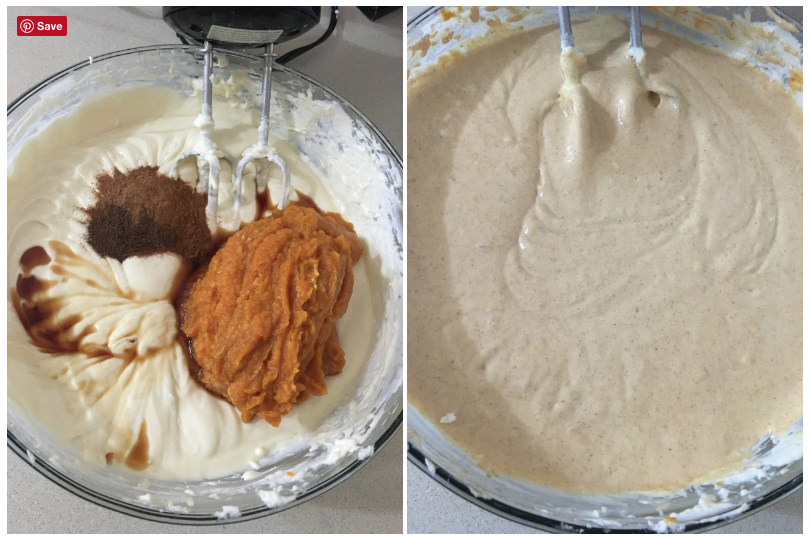 Finally, pour the mixture just to the top of each muffin liner, and pop in the oven for 30 minutes (25 minutes might do it, if you're at high altitude, like me!)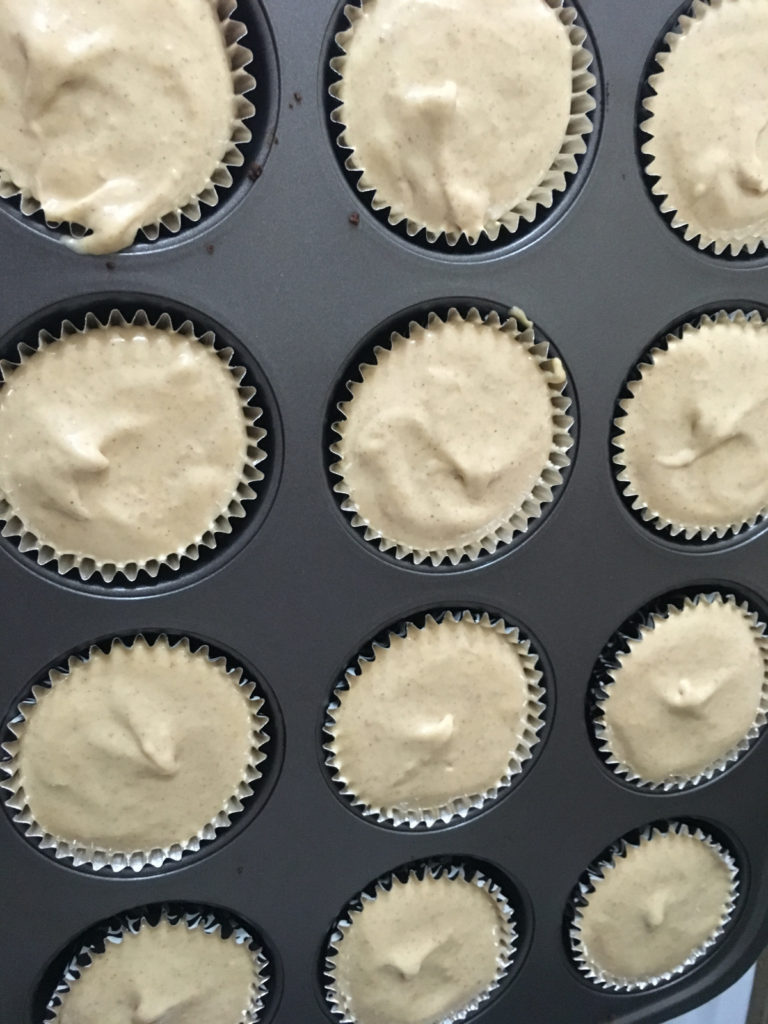 When you pull them outta the oven, they will be puffed up, but as they cool, they will sink. Don't worry – they're not undercooked!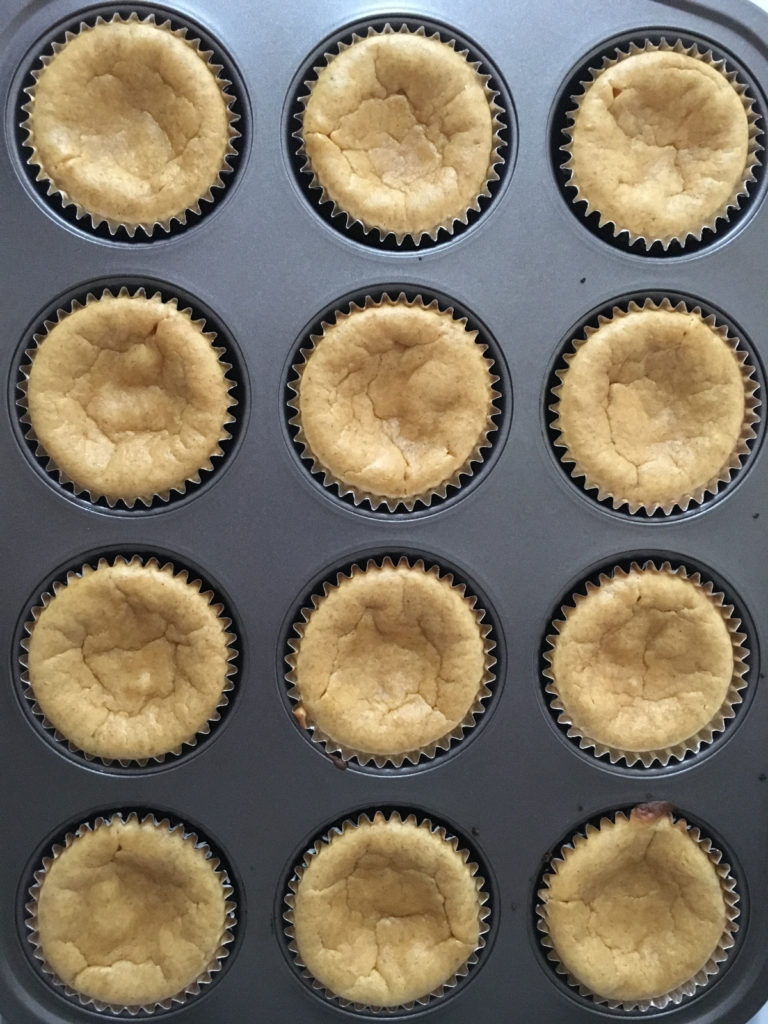 Let 'em cool completely, then throw 'em in the fridge.
Leave 'em in the fridge for at least an hour or two, or overnight, if you're making these the day before a party.
Now, for my personal taste, I gotta drizzle 'em with some salted caramel AND a dollop of cool whip. At the very least, do yourself a solid, and pop some whipped cream on top.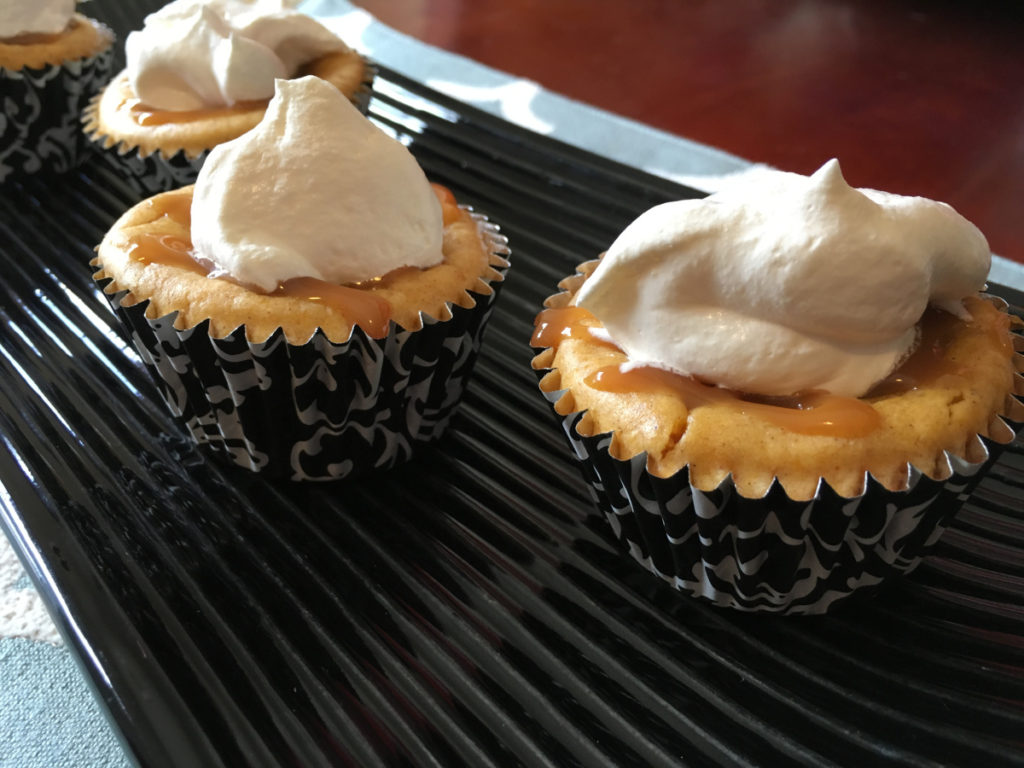 Servings: 24 cupcake-size cheesecakes. You will probably even have extra filling, so you can easily stretch it to 30 (But then remember to increase all the crust ingredients by 25%!)
Time involved: Active prep/cooking time is only 15-20 minutes for this treat. But then there's the baking time (30 minutes), the cooling off time (another 30-45 minutes), and then the refrigeration time (at least an hour, but probably more like two.)