When I was growing up, our big family trip every year was driving down to Hilton Head, South Carolina over the week of spring break. It's a long drive – 15 hours. We never did it in one day… We usually crashed somewhere once we hit North Carolina.
And as kids, North Carolina was the best state to drive through, because there were these kitschy signs for "South of the Border" seemingly every 25 feet on I-95. These silly signs provided hours of amusement for Kerry and I. We even made up our own little "South of the Border" Mexican-inspired song/jig. (This is what ya did back in the day before iPads and digital entertainment. Magnetic checkers, anyone??)
Of course, once we actually passed South of the Border, we remembered what a letdown it was. I'm sure it's a fun place, but with so many billboards leading up to it, we always expected to see something of more impressive stature.
Oh well, there was always Cracker Barrel to cheer us up!
I LOVED Cracker Barrel! I loved the dozens of rocking chairs on the front deck for people waiting for their tables. I loved the games on the tables. I loved the attached store with silly toys and random treats!
I'd take Cracker Barrel over South of the Border every day of the week and twice on Sunday!
Cracker Barrel was a real treat. A treat I only got to enjoy once a year because they were only in the south.
Or so I thought…
Fast-forward to my early-to-mid-20s and I realized I lived down the street from one for 5 years when I lived in Lawrenceville, NJ. Go figure!
I could have been enjoying delicious biscuits and gravy all this time??? (Slap-myself-in-the-head moment…)
Oh yeah… That's where it was at for me – Biscuits & Gravy… Another thing I thought I could only get in the south.
Fast-forward to my mountain living days in Colorado, when I had no choice but to learn how to cook because there are no restaurants/takeout options where we live. (As someone who hates cooking, man, I really screwed myself, in that respect. It didn't even occur to me until a month after the mortgage papers were signed that "Oh, shit, I'm gonna have to do a helluva lotta cooking around here… Doh!!")
There's no "Ugh, I don't feel like cooking, let's just order a pizza." I mean, it's technically possible, I guess, if you want to drive 30-35 minutes each way to go get yourself a pizza…
We can't get food delivered to our house. Our MAIL doesn't even get delivered to our house! Our mailbox is ¼ mile away on another street!!
So yeah, I suddenly had to do a LOTTA cooking. And I was pretty bad at first. Things always seemed to LOOK pretty on our plates, but far too often, the actual taste was a total letdown.
But I persisted. I pushed through the bad times, and developed strategies to ensure more frequent "winners". One of the things I decided to do was write down a list of everything I HAD TO learn how to make. I HAD TO learn how to make an insane marinara, for instance. I HAD TO learn how to make a bomb barbequey pulled pork.
And I HAD TO learn how to make biscuits & gravy, of course.
Which is actually not that hard to do, especially if you buy biscuits in a can that you can just pop in the oven.
But I like to make stuff from scratch whenever reasonable enough to do so… I like knowing exactly what's going into my meals. (Plus, like I mentioned, I live a LEETLE bit aways from the store… So I can't just wake up on the weekend jonesing for biscuits & gravy and justify an hour drive just to get a can of biscuits. But I almost always have the ingredients around to make my own…)
When I first decided to learn how to make biscuits, the altitude factor was my main concern (we live at ~8,500 feet above sea level!). I had to do a little research.
But I'm not the only person in the mile-high-or-above area that wants to make biscuits! So here you go, high-altitude folks! Mile high biscuits and gravy!
Ingredients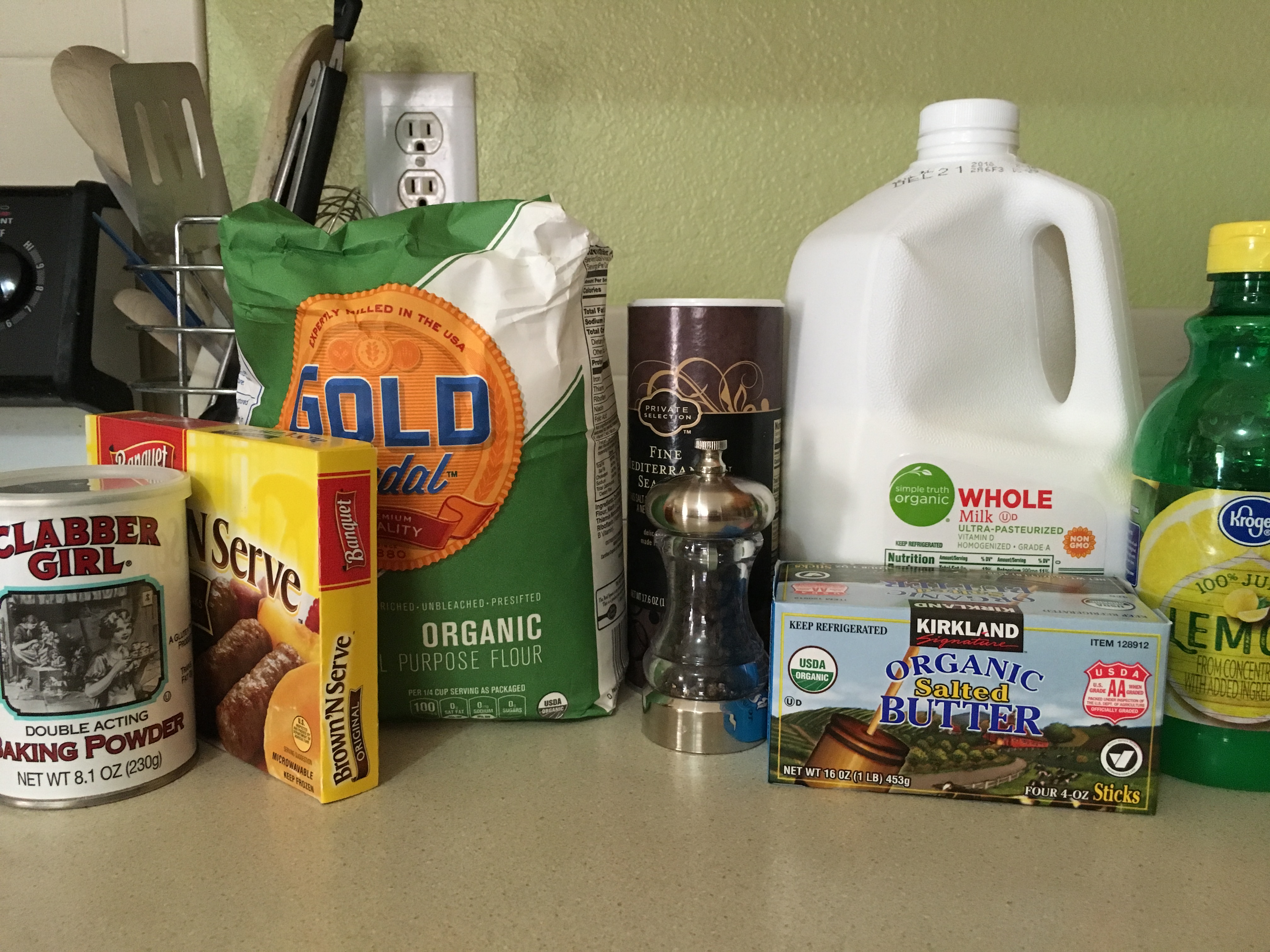 For the biscuits:
1 cup flour
1 tsp baking powder
¼ tsp salt
5 tbsps butter (salted)
½ cup whole milk
2 tsps lemon juice
For the gravy:
1 package breakfast sausage (7-10 sausages, casings removed, if applicable)
2 cups whole milk
2 tbsps butter (salted)
3 tbsps flour
½ tsp pepper
(You could add a few dashes of nutmeg or cayenne pepper… Or maybe some sautéed onions and/or mushrooms. And a tablespoon or two of bacon grease is always my bag, baby. You could even make flavored biscuits if you're feeling saucy, baby, YEAH! My recipe is just your basic get-yer-started package.)
Directions
Cook your breakfast sausage and break it up into bits.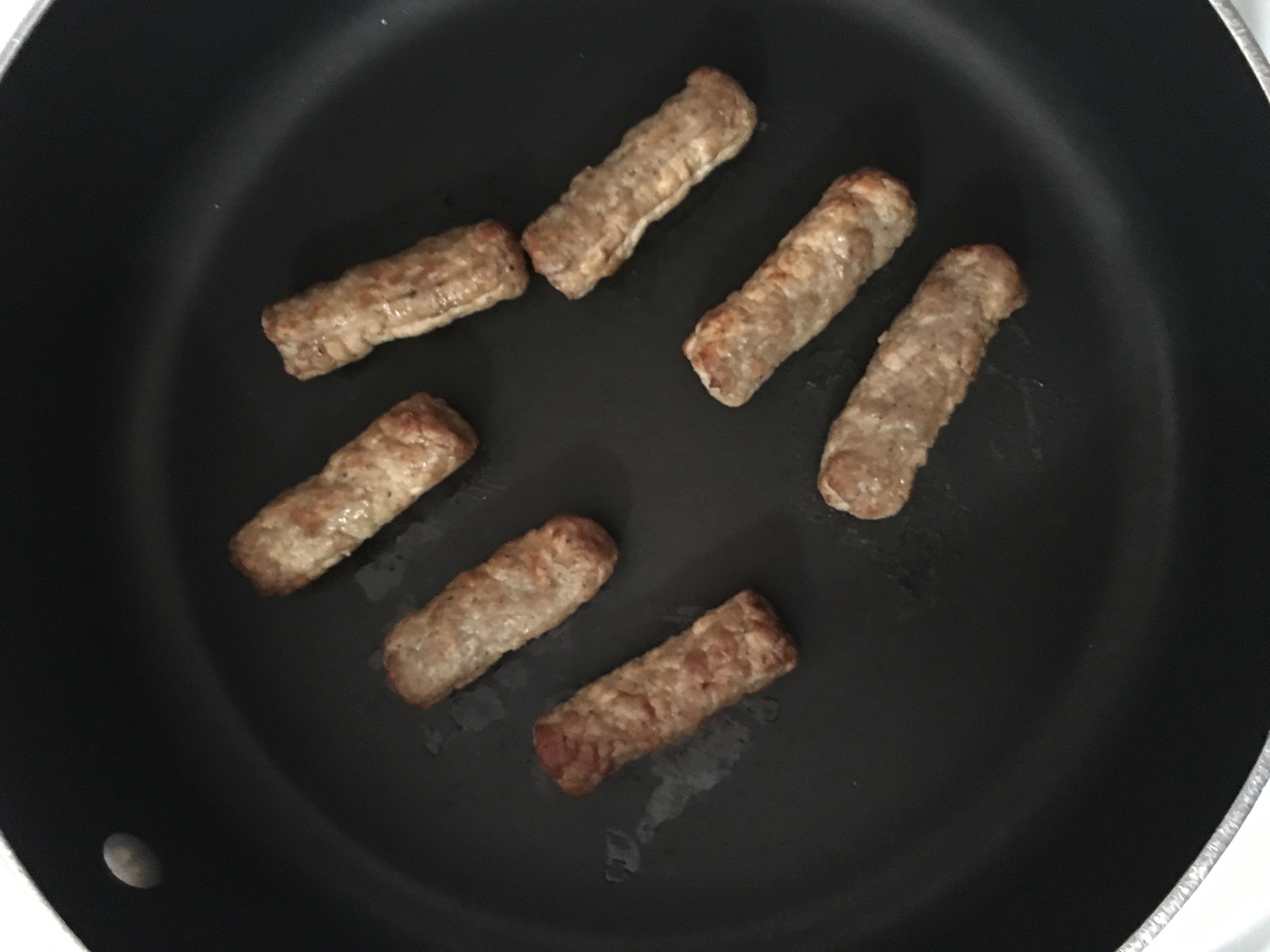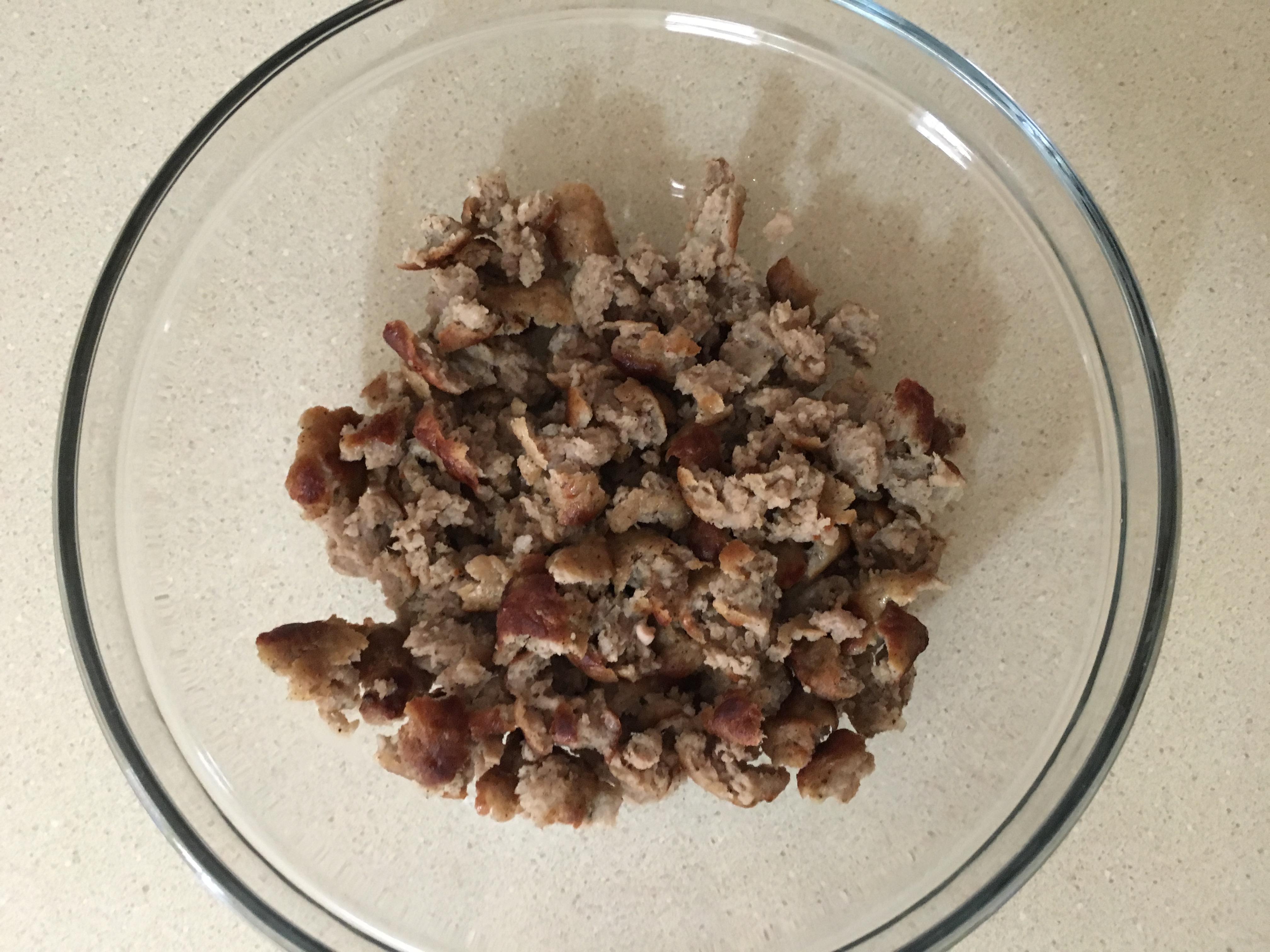 Preheat your oven to 400. (Lower altitude folks might need to bump it to 425.)
Next you work on the biscuits. Now apparently, the key to making biscuits at high altitude is to use COLD butter and milk. So don't go melting that butter in the microwave! I don't know the science behind it, I just know it works!
Also, baking instructions at high altitudes tend to require a bit more of the liquid ingredients because it's so dang dry up here. So if you're at sea level, you can probably get away with a little bit less butter.
Mix together your flour, baking powder and salt. Then cut your butter into little cubes, and mash the mixture together with a potato masher, until the butter is in little bits.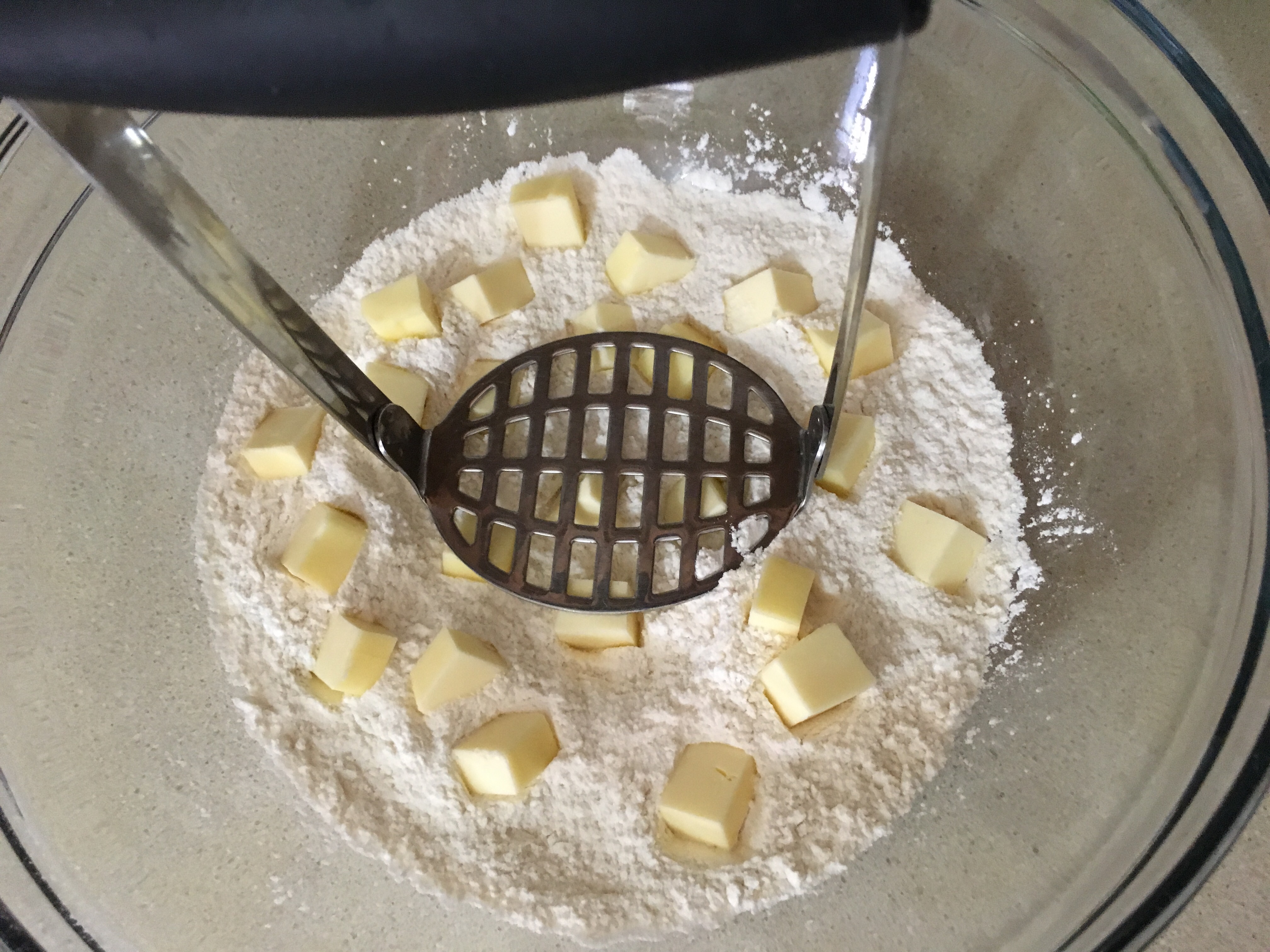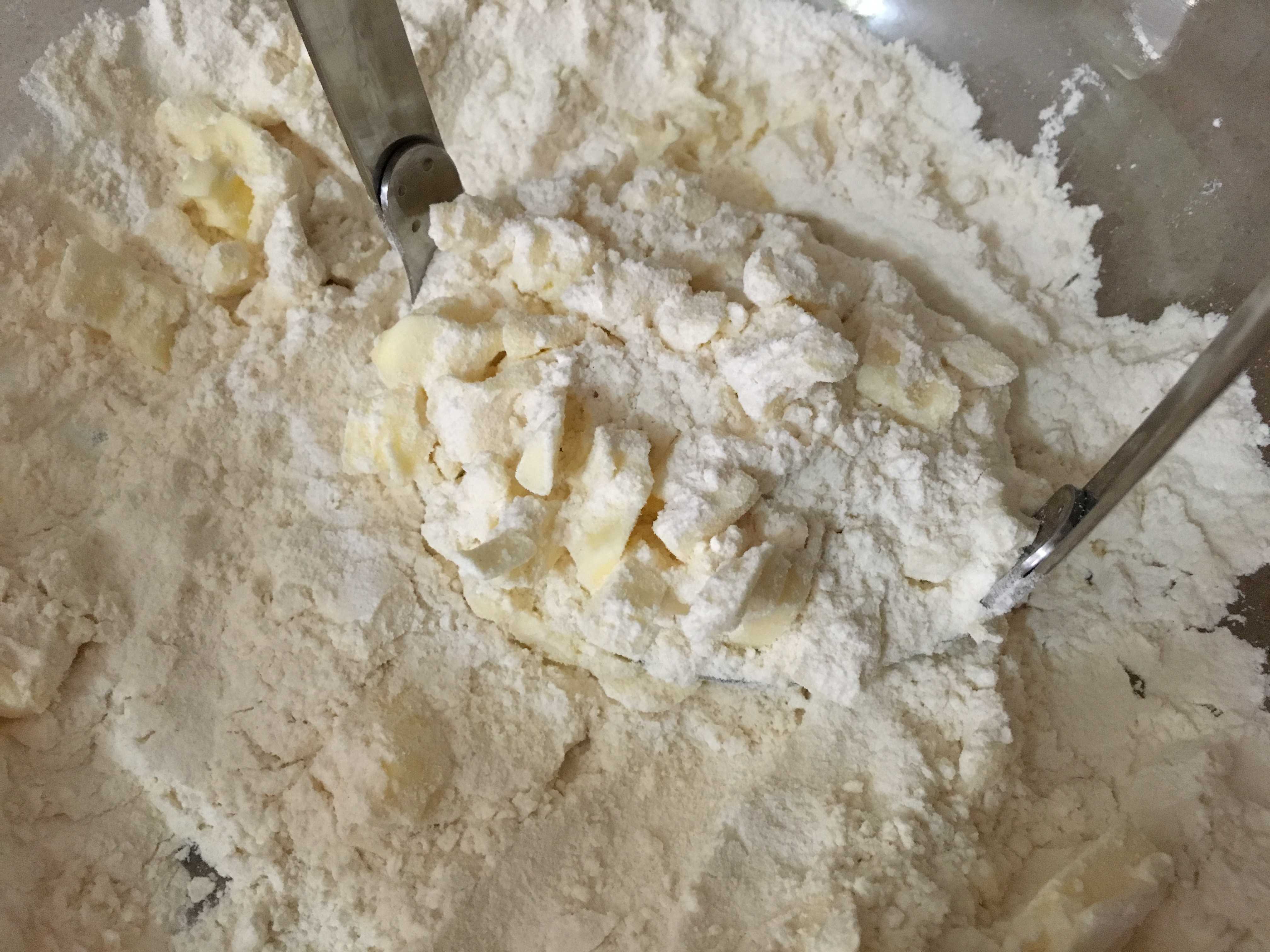 Add 2 teaspoons of lemon juice to your milk (this sours the milk a bit, making it like buttermilk. Of course, if you have buttermilk, just use that!)
Pour the milk mixture into your flour mixture and mash it all up again with your potato masher. When everything is mixed together well, divide it into four chunks, place the dough chunks onto a cookie sheet, and pop those babies in the oven!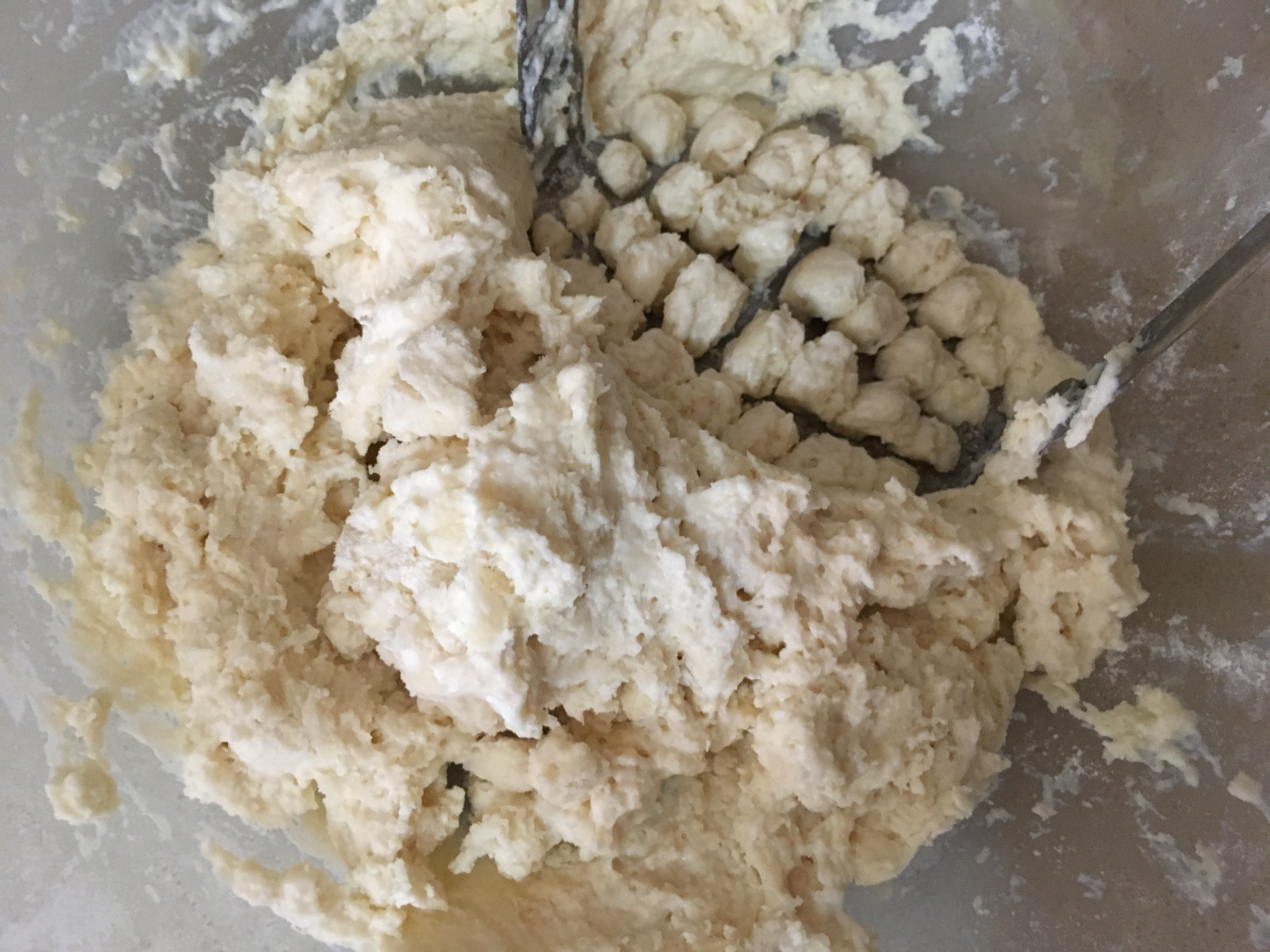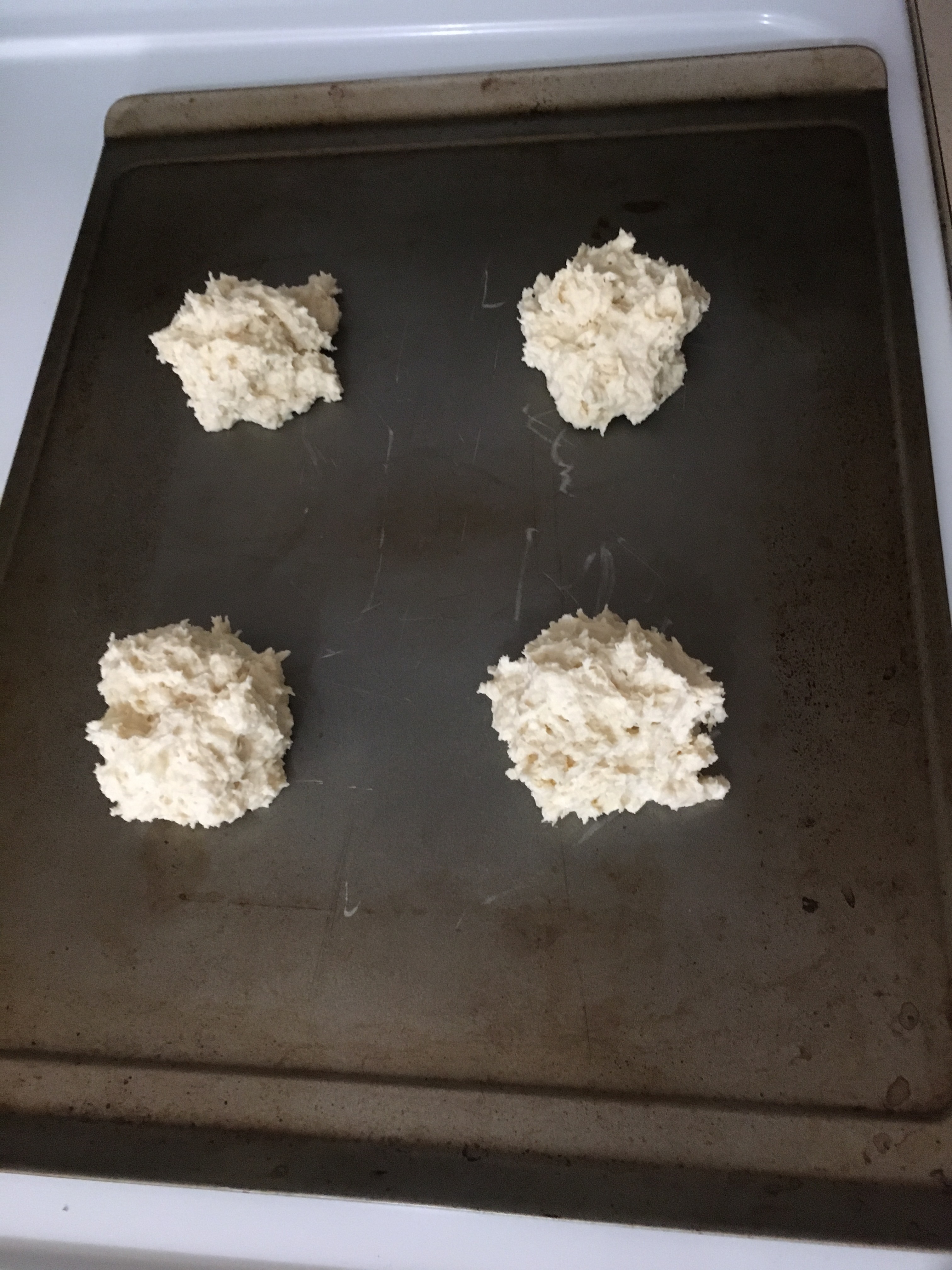 (They don't have to look pretty – You're just gonna pour gravy all over 'em when they're done!)
At my altitude, these need to bake for about 15 minutes. Might take a little longer at a lower altitude, or if you double the recipe to make more biscuits. You'll know they're done when the tops get a little brown.
Now it's time to make the gravy. You already have your sausage cooked and broken up, so all you have to do is melt a couple tablespoons of butter over medium heat (and/or bacon grease) into your pan, then add the sausage and flour, and mix it all up well.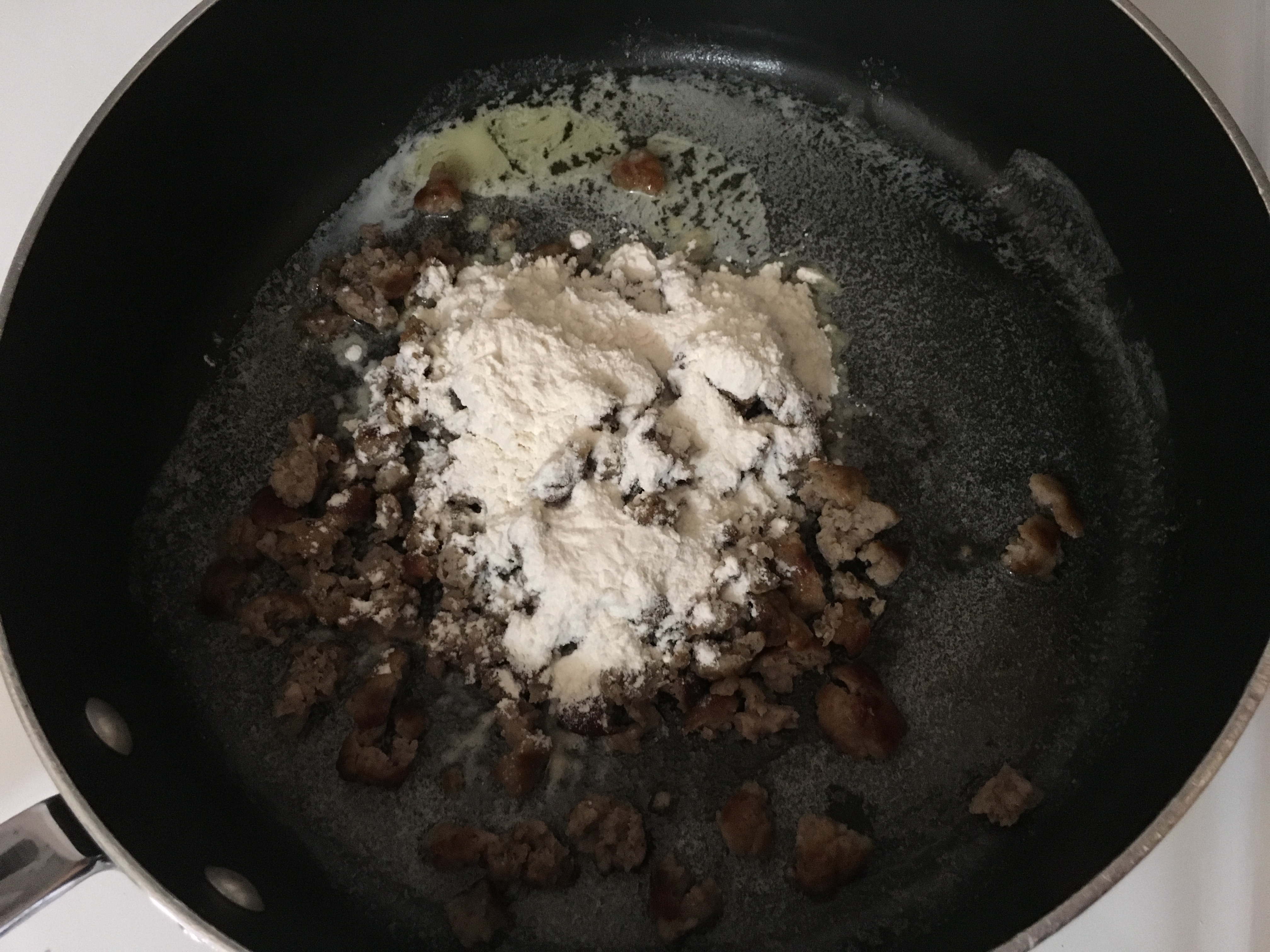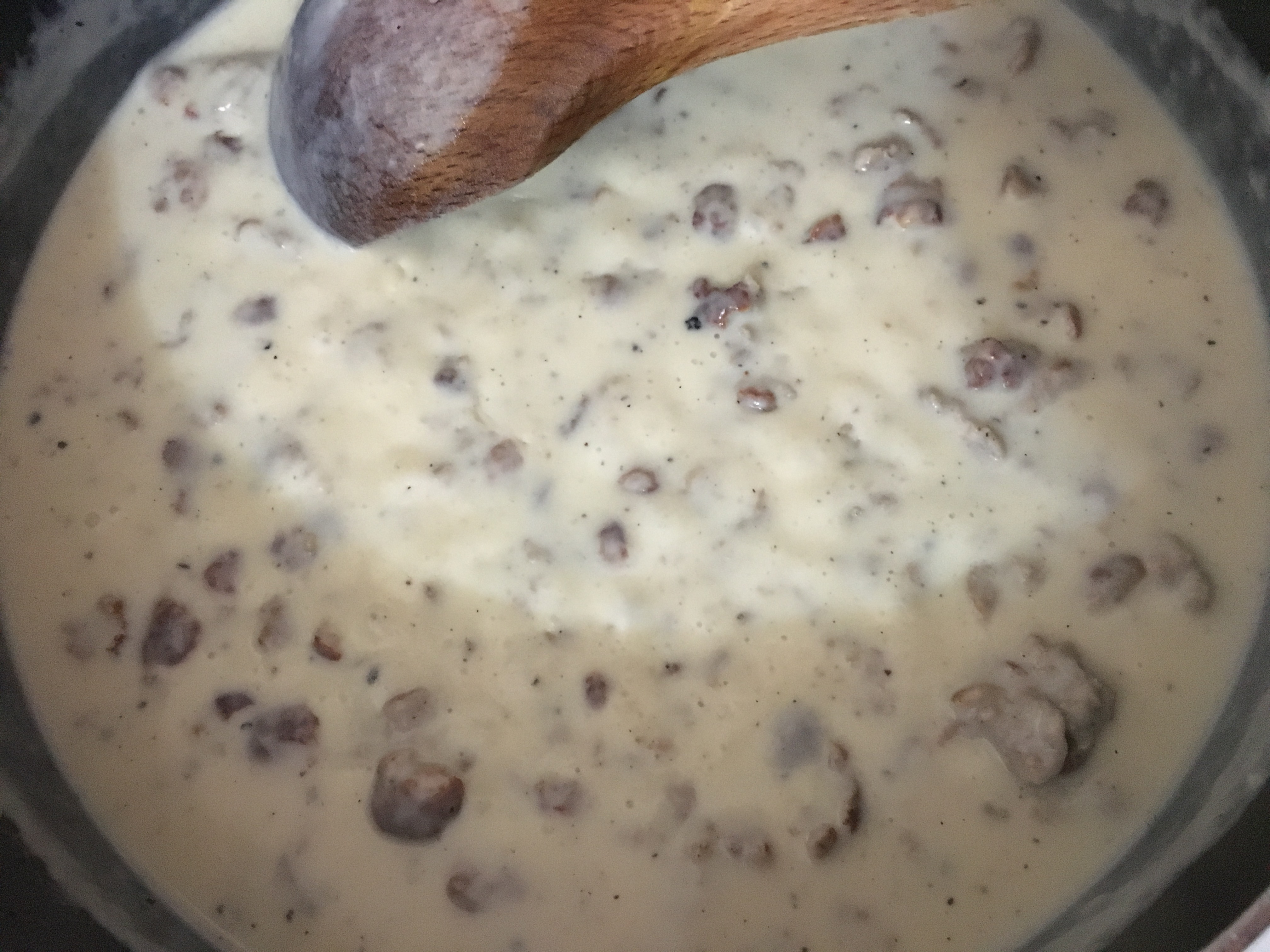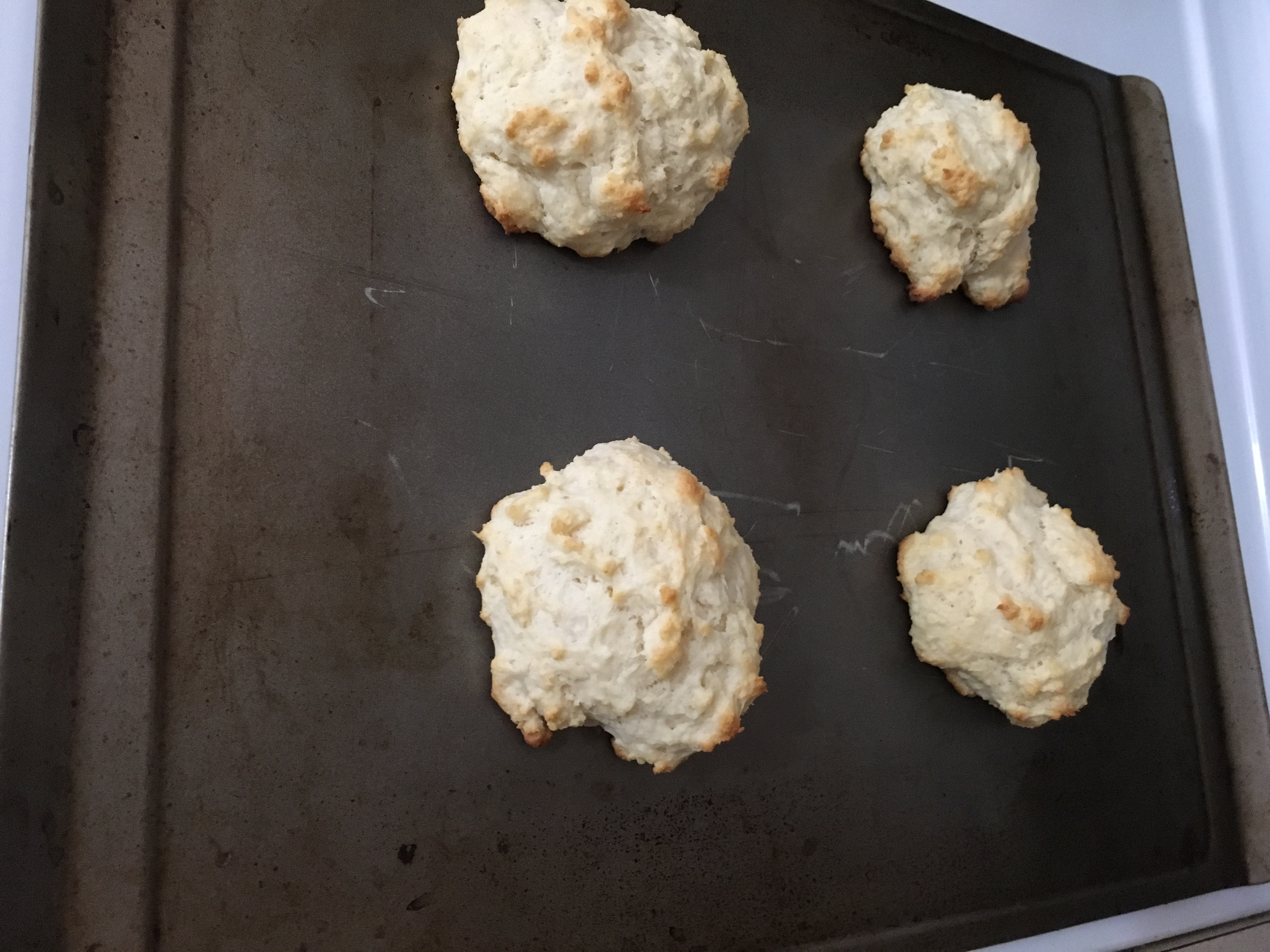 Then add your milk and pepper, and just keep stirrin' until the gravy starts to thicken. (Add nutmeg or cayenne pepper at this point, if you're into that!)
Pour this deliciousness all over your biscuits and ENJOY!!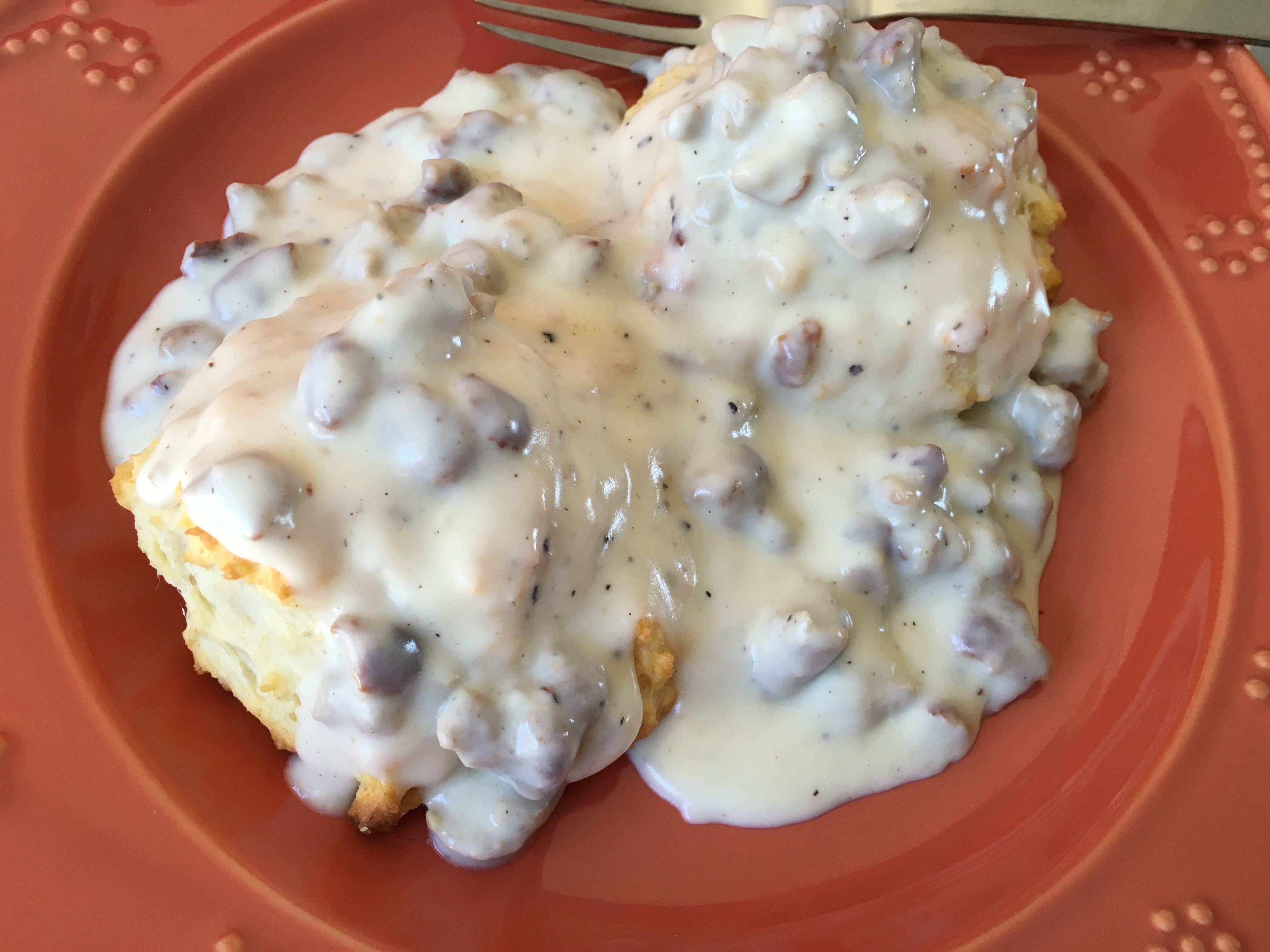 Servings: This makes 4 nice size biscuits with a LOT of gravy (Mike and I eat two apiece.) You could easily cut the gravy ingredients in half and probably have enough gravy. But I like a LOT of gravy. This is a special treat in our house, so I have a "go big or go home" attitude towards it. But this is fatty as hell! Don't be having this for breakfast every day… Your arteries would get clogged with gravy real quick!
Time involved: Start-to-finish, this takes about 30 minutes… But oh so worth it!